Forum examines Catholic sex crisis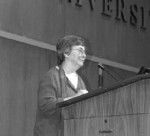 The Catholic pedophilia scandal that rocked the Church earlier this year created shock waves from which the Church is still recovering. To address the effects the scandal had on Christianity, Margaret O'Brien Steinfels kicked off the "Crisis in the Church" forum on Tuesday with a lecture, "How Did We Get Into This Mess?" Steinfels, copy editor of Commonweal, a Catholic layperson magazine, spoke of the Church's failure to adequately address the child sexual abuse scandal that exploded in March and rocked the foundations of American Catholicism.
Steinfels explained that the media and public took the Church's lack of a response as an admission of guilt, opening the floodgate for rumors. She attributes much of the problem to the way the allegations against the priests were originally handled. According to Steinfels, Cardinal Bernard Law and other bishops made a concerted effort to conceal the abuses. They refused to apologize, mend the problem or resign their duties.
Although people from all walks of faith and politics have proposed answers to the problem of pedophilia in the Church, Steinfels said there is no solid answer.
She attributes the problem to a failure of communication among various groups during the breaking scandal. Lawyers, victims, bishops, priests, and even laypeople found themselves at odds with one another. "The interaction between these groups is itself a reason for this mess," she explained.
Students and other members of the community at the lecture appreciated the arguments Steinfels made. "I respect the fact that she knew what she was talking about. She had clearly done her research," said junior John Farrell.
The University will sponsor related forums in the coming weeks, including legal dimensions of the sexual abuse crisis in the church on Sept. 20, anatomy of a Crisis on Oct. 4, psycho-sexual dimensions of the Crisis on Nov. 5, and being Catholic in today's world on Nov. 12. All lectures will take place at 3:00 p.m. in the Connelly Center Cinema.
Dr. Barbara Wall, Special Assistant to the president for Mission Effectiveness, organized the forum series. Wall sees the scandal as "perhaps the most serious and major problem facing the American Catholic Church for the last several centuries. The crisis is a complex and multifaceted concern to most Catholics. I think the problems are of interest to most believers regardless of the faith context."
She indicated that the lecture series is an attempt to explain the complex issues of scandal to the University community. "As a Catholic, Augustinian university, we need to provide some leadership in understanding the complexities of the scandal and provide recommendations for dealing with the scandal for people affected personally and those within the Church seeking an understanding," she said.