Univ. closes in wake of snowstorm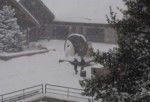 A snowstorm that began in the southern United States dumped between six and eight inches of powdery snow on the Philadelphia area, including the University campus, on Thursday, resulting in the suspension of late morning and afternoon classes.
The snow, which began falling at around 4 a.m. in Villanova, caused heavy accumulation in University parking lots and made for unfriendly travelling conditions along the sidewalks, leading to the suspension of all classes at 11:15 a.m. and the closing of the school at noon.
"It was a really nice surprise, having classes cancelled," said Emily Strutenberg, who enjoyed the afternoon by sledding down the slopes near Delury Hall on a dining hall tray.
"Now maybe I can catch up on my work a little bit. Maybe not until a little later, though," the freshman said with a wink.
Meanwhile, sophomore Brett Kanton was using strategy to get help from the storm.
"I never get the day off unless I've done all my work in advance," Kanton said.
"I stayed up until almost 3 [a.m.] working on a paper, but it was worth it. Now at least I can enjoy a little snow football."
The storm, which dropped snow and ice across the south and East Coast, left more than a million people without power Wedesday night into Thursday and has been blamed for six traffic-related deaths in Kentucky, Missouri, Tennessee and North Carolina.
Officials at the Facilities Management Office, which are responsible for the removal of the snow, were unavailable for comment at press time.