Closing time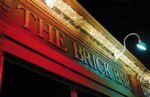 BRYN MAWR — After eight years of serving up cold beers and other drinks to University students, the Brick Bar on Garrett Avenue will close its doors on Feb. 1.
The bar's liquor license will be transferred to a new owner pending approval by the township board of commissioners, said Dave Cannan '84, '86, the commissioner for Rosemont and Garrett Hill.
An offer of compromise between the management of the bar and the Pennsylvania Liquor Control Board ultimately led to the Brick Bar's closing, as neighbors living near the bar complained about it to the town.
"If there's a problem, the Liquor Control Board gives the community the chance to voice their concerns about the morals, peace, health and so on of the neighborhood," Cannan said.
The Nuisance Bar Program, as the initiative is called, is designed to measure the impact of a liquor-dispensing establishment on the surrounding community. This is done when a bar seeks to renew its liquor license, which the Brick Bar was about to do.
Police involvement at the bar was a serious factor as well.
"Garrett Hill was becoming a public toilet bowl," he said, citing the increased public urination offenses documented by authorities.
"There's a two-inch thick stack of police citations for the Brick Bar … across the street there's none at all."
According to the Brick Bar's management, the building will be closed for several months while it is renovated and a new owner moves in.
"It's going to be turned into a restaurant, similar to The Grog," said Pete Brigg, 22, a manager at the bar.
Brigg said he regrets the impending change of ownership and does not plan to seek employment in the building he has worked at part-time for the past four years.
"Everybody's real upset about it," he said.
The incoming management must be approved for a license by the township board of commissioners before it can sell alcohol. The board would deny the license to any group that would negatively impact the health and morality of the neighborhood, Cannan said.
Additionally, residents living within 500 feet of the property can file a protest to prevent a proposed license. In a letter to the community, Cannan said this procedure led to a beer distributorship's application at the old Carpe Diem establishment in Rosemont to be withdrawn.
"We will continue to monitor behavior and enforce rigorous standards for liquor establishments in Garrett Hill," Cannan said.