NBC anchor to speak at commencement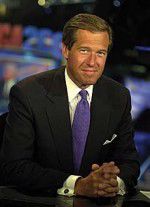 Brian Williams, anchor and managing editor of CNBC's "The News with Brian Williams," will address the Class of 2003 during the commencement exercises this May.
Williams, who will replace Tom Brokaw as the anchor of "NBC Nightly News" in December 2004, is currently embedded in Iraq where he provides timely reports about the war effort.
In more than 20 years in broadcast journalism, Williams has covered events such as the Sept. 11 attacks, the death of Princess Diana, the crash of TWA Flight 800 and the election of Nelson Mandela in South Africa.
University President Rev. Edmund Dobbin, O.S.A., said Williams was nominated by a professor in the communication department as well as by a recent graduate of the University.
"His selection is very current and very relevant to situation of the world as students leave," Dobbin said.
That relevance to the situation in Iraq could ironically prevent Williams from making it to commencement, but Dobbin does not expect a scheduling conflict.
"There's no indication that it will be a problem," he said.
Possibly being held up in Iraq "doesn't seem to be the situation."
Williams has earned three Emmys during his career for the coverage of the stock market crash in 1987, flooding in Iowa in 1993 and most recently live coverage of a plane crash in Taiwan in 2001.
Additionally, the National Father's Day Committee named Williams Father of the Year in 1996 and GQ magazine dubbed him its Man of the Year and "the most interesting man in television today" in 2001.
Before joining NBC, Williams worked in Philadelphia and New York as a correspondent for CBS after breaking in with a local station in Pittsburg, Kan. He also held several jobs in the White House before breaking into broadcast news.
Honorary degrees will also be conferred upon Special Olympics athlete and spokeswoman Loretta Clairborne, former GE Plastics-Pacific president Herbert G. Rammrath '57 and Most Reverend Daniel T. Turley, O.S.A.
Clairborne, who was diagnosed as mentally retarded and legally blind shortly after birth, has excelled in Special Olympics events around the world and in 1996 was inducted into the organization's hall of fame.
Rammrath, an active donor to the University, spent 30 years with GE Plastics, where he strengthened the $1.5 billion plastics market in Asia. He is now chairman of the United Plastics Group, a leading plastics molding company.
Bishop Turley has spent years of his life aiding poor people in Peru.
He first worked in the South American country in 1969, and today he continues to support the needy through soup kitchens, educational aid and health care education.