Nursing School Offers Ursinus Students Accelerated BSN Degree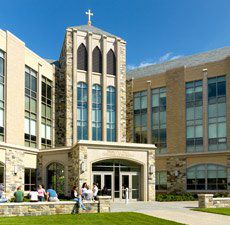 The University has recently partnered with the nearby Ursinus College in a five-year affiliation agreement offering at least five qualified Ursinus students the opportunity to receive BSN degrees from the University's Louise Fitzpatrick College of Nursing.  
This is a second-degree program and will be compressed over the course of 14 months, where students will complete the standard requirements of the University's nursing program.
Ursinus College quoted Mark Schneider, Vice President of Academic Affairs and Dean of Ursinus, saying "this agreement presents a wealth of new possibilities for Ursinus students seeking a career path in nursing."  
Schneider adds, "We are proud to enter this partnership with Villanova and provide a new generation of healthcare professionals the opportunity to earn a second bachelor's degree from a renowned institution before setting out to meet the healthcare needs of the global community."
"We have been delighted with the success of Ursinus graduates in our BSN program and the impact they have in their nursing careers while caring for patients, families and communities. We look forward to continuing this relationship with Ursinus through this new agreement," Lesley A. Perry, Ph.D., R.N. says, interim Dean of the Villanova University M. Louise Fitzpatrick College of Nursing, quoted by Ursinus College.
This is not the first academic partnership available for Ursinus students. Thier other partnership schools include: Columbia University and Case Western Reserve University for Engineering, The Simon Business School at the University of Rochester for Business, and Saint Joseph's University for MBA.
To qualify for the program, Ursinus students must graduate with a four-year degree from Ursinus College, meeting the necessary prerequisite courses in addition to admission requirements of the Villanova BSN program.
 The Accelerated BSN Program for College Graduates is approved by the Pennsylvania State Board of Nursing and fully accredited by the Commission on Collegiate Nursing Education.
Ursinus students interested in the program are urged to contact the career and profession development for more information.
"I am a great supporter of dual-degree programs like the Villanova partnership," Schneider says, again according to Ursinus College. "They allow students to enjoy all the benefits of a full liberal education and still gain the skills and credentials that are such valuable preparation for a career."