"Love The Skin You're In" Fashion Show Spreads Positivity on campus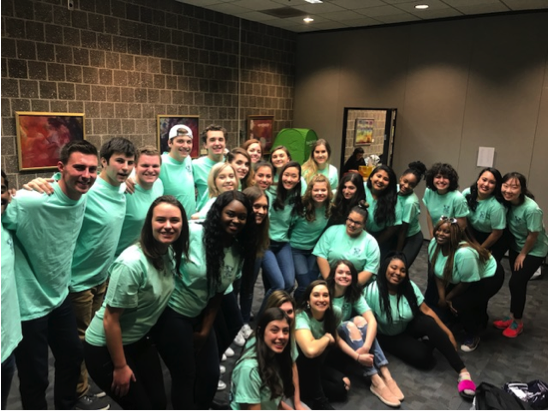 On Monday, Feb. 26 the University's Office of Health Promotion put on the fourteenth annual "Love the Skin You're In" Fashion Show. Kristy McCarthy, Assistant Director of Health Promotion, helped coordinate the vendors and models for this year's show.
 "The 14th annual Love the Skin You're In Fashion Show is all about 'Celebrating Every BODY!'," McCarthy said. "This year's fashion show aimed to embrace individualities, showcase body positivity and bring awareness to mental health on our campus. This show serves as a unique opportunity for students to come together to recognize that at times we all struggle with our insecurities, but we are here to encourage one another and to respect and appreciate our own natural beauty." 
Throughout the show, we  highlight various mental health resources including the University Counseling Center, Pals for Life Pet Therapy Animals and the student organization MHAA-Mental Health Advocacy and Awareness. We hope that each student who attended left the show with the commitment to encourage themselves and their friends to live with confidence, be their authentic selves, and to respect and support one another in times when they might need it most."
Each year the fashion show brings in local vendors to provide clothing, jewelry, hair and makeup to the models. The models are asked to volunteer from organizations across campus and arrive early to have their hair and makeup styled however they choose. One of the models in the show, Kat Blehl described how she chose to embrace her own natural beauty. 
"It was especially important for me to be my authentic self," she said. "For me, this meant leaving my hair in its natural curly state. When I went to get my makeup done before the show, the beauticians asked me what I wanted to do with my hair. I proudly said, 'Nothing, I'm keeping my curls!' There was a subtle sense of shock from them. This simple action of embracing my natural curls was the very point of the show, celebrating every-body regardless of size, features and imperfections." 
Behl also worked as a vendor for the show. She created an Etsy shop called "With Love by a Newer Kat" which was featured in the fashion show. This year's vendors also included Athleta, Primark, Louella, Kendra Scott, Gap, South Moon Under, and Scout & Molly's Boutique. Kat described her attitude from the viewpoint of a vendor as well. 
"Additionally, it was really important for me as a vendor to ensure that my models felt comfortable in my clothing," Behl said. "I loved seeing them strut down the runway knowing they were confident in what they were wearing."
Following the show, the models and vendors reported high levels of satisfaction with the show's success. They praised the idea of promoting body positivity in a world where many young people are heavily influenced by the pressures of social media.