PMA Biography: Gallery 235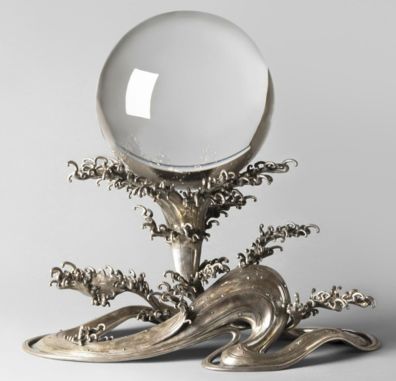 OOOOH BOY, it's time get excited about one of my most favorite pieces in the East Asian Art curatorial department. This super cool decorative crystal ball is from 19th (or maybe early 20th) century China. Flawless crystal things are generally all the rage in Chinese history, with the fad beginning as early as 960, during the Song dynasty. The larger a flawless piece, the cooler it is—and this piece is absolutely bonkers. That ball itself is more than 31 pounds—the diameter is nearly 9 inches. And there's not a scratch or imperfection on it! I don't know much about rocks or crystal formation, but BRO. Do y'all know how lucky and skilled you got to be to make that work? The short answer is extremely. 
The base is also rad—the wave motif is beautifully made to cradle the crystal ball. It makes it look almost as if it is floating. The base is actually not from China—it dates to early 20th century Japan. This was almost definitely a statement piece, and certainly used to flex on friends and associates. For sure, my eyes would pop out of my head if I saw this sitting on my friend's living room table. 
Unfortunately for the superstitious folks in our readership, it does not appear that this crystal ball was used for ~*gHoSts*~ or ~*sEaNcEs*~, even though that would be super cool as historical trivia. Could you imagine how clear a connection you'd get with a crystal ball this flawless and this large? I bet you wouldn't even need to do the "now let us all join hands and close our eyes and focus our energy" silliness. If you want to see this enormous, beautiful, non-occult artifact for yourself, it is in Gallery 235 on the second floor of the museum. If I remember correctly, the lighting in that wing is already dim, to help with the aesthetic of the installation. Maybe someone can try out a séance after all!