Farm Fresh and Family Friendly: Linvilla Orchards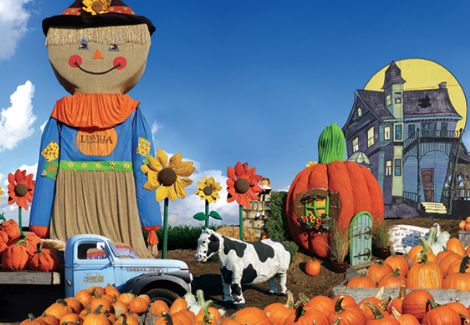 After watching "It's the Great Pumpkin, Charlie Brown," one will be craving a real-life pumpkin patch to visit. There is one just miles from Villanova's campus called Linvilla Orchards. But friends, this is not your average patch. 
Upon arrival, one is transported to a fantasy land of all things autumn. In fact, that is the inspiration behind Pumpkinland, the first major attraction at the site. It is adorned with larger-than-life characters, such as Cinderella, Raggedy Ann and Dracula, that are just creepy enough to frighten all visitors. The stuffed figures surround the more than 100 tons of pumpkins, gourds, and squashes are on display and available for purchase. If one is in the mood for picking, Linvilla has that covered as well. A $6 entry fee gives you access to fields swarming with everything from apples to berries, making one's organic desserts all the more delicious.
But why wait to bake when you can go on a shopping spree at the Linvilla Farm Market? It is an overwhelming experience for the senses as soon as one walks into the store. Your eyes will marvel at the humongous jugs of apple cider and maple syrup. Follow the inviting smell of fresh-baked goodness to the back of the market where anyone's cravings will be satisfied. If one is longing for savory options, pull-apart cheesy bread and warm Kaiser rolls are the way to go. Those wanting more sugar in their diets will not be let down either. Linvilla is famous for its pies and after one taste of their chocolate chip pecan or lemon meringue, you'll know why. If you cannot settle on what to get, stock up on the free apple cider donut samplings while you make critical decisions.
Now, if the food doesn't tempt you, the offerings at the quaint gift shop will. Although Villanova's dorms do not allow candles (believe me, they smelled wonderful), other seasonal options are here to spice up your space for Halloween. From spooky signs to pre-carved petite pumpkins, a small dorm will perk up with just an item or two. One can buy decorations for all seasons such as trendy succulents and terrariums or vintage chalkboards to leave your roomie messages. Get a head start on Christmas gifts and check out their homemade jams and sauces fit for any cook. Friends from home would love Linvilla's assortment of jewelry holders or fuzzy socks. Pick yourself up a present while you're at it, like hot cocoa mix to prepare for the cold months ahead.
The farm features family-friendly activities that all ages can enjoy. Get in touch with your wild side and interact with birds, goats, and horses at the petting zoo. For only $8, anyone can go on a pony ride, an irresistible photo op that is especially enviable after getting your face painted. Then hop on a harvest hayride, and get a unique tour of the grand estate lined with ruby and gold trees. If this ride is taken at night, you'll be dropped off at a toasty campfire to roast marshmallows under the stars.
A short drive is all it takes to reach the wonderland of Linvilla Orchards. Coming during the day with a group of friends is sure to be a treat, even a sweet one if you opt for one of their juicy caramel apples. Nighttime is equally exciting with the jack-o'-lantern contest showcasing the area's best carvers and their ability to light up the grounds with their scary designs. Linvilla Orchards' autumn events run through Nov. 15, so make sure they are next on your list to have a festive fall around Philly.