Penn ends 'Nova's five-game win streak in close one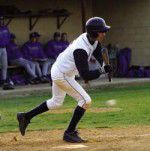 The Villanova baseball team took a five-game winning streak and an undefeated record against Pennsylvania schools into Philadelphia on Wednesday but couldn't hold on to a 9-4 ninth inning lead, falling to UPenn 10-9.
The loss drops the Wildcats to 21-15 on the season, while Penn improves its dismal record to 10-21.
Villanova took an early 1-0 lead in the first inning, which Penn was able to tie off a homerun in the fourth. After the homer, Penn was able to drive home two more runners to take a 3-1 lead.
The 'Cats surged back over the course of the next few innings, however, off of timely hitting from Adrian Schau, Brendan Mannix and Ryan Crammer.
The Wildcats took advantage of Penn mistakes in the eighth to gain a seemingly comfortable 9-4 lead. However, the Quakers weren't done yet. Record-breaking closer James Russell came on in the ninth looking to clean up an inning in which Penn had already scored one run and had two runners in scoring position. Quaker Mike Goldblatt turned a Russell pitch into an RBI single to cut the lead to 9-6.
Russell then walked the next batter who was subsequently drove home along with another Penn baserunner by batter Nate Moffie, cutting the 'Nova lead to one. Russell settled down to strike out the next batter, but could not maintain his composure, throwing a wild pitch which allowed the runners to advance to second and third.
The next Quaker batter was able to hit a tricky single which Russell and first baseman Rob Cafiero were unable to successfully field, allowing the tying and subsequent game-winning runs to cross the plate, giving Penn the victory.
On a brighter note, 'Nova centerfielder Chris Graziano extended his hitting streak to an impressive 11 games, going 1-for-six at the plate. Wildcat went two-for-five with three runs, Cafiero went 3-for-5 with two doubles and an RBI, while Ryan Crammer went 2-for-3 with a double and an RBI.
On the mound, junior starter Tom Kandybowicz received a no-decision, getting only four innings of work, giving up three runs on four hits, while walking three and striking out two.
Freshman Mike Grodecki came on in relief, pitching two and one-third innings before handing the reins over to Russell, he suffered his third loss of the season.
Penn pitcher Josh Appell picked up his first win of the season for the Quakers.
The Wildcats will look to get back to their winning ways this weekend when they face Big East opponent Boston College. The doubleheader, which will be played at Veterans Stadium in Philadelphia, is set to start at noon, with the second game starting at 2 p.m.