Women's lacrosse poised for playoff surge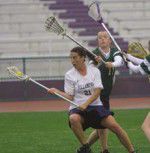 Last Saturday at Kessler Field, the women's lacrosse team defeated Monmouth University 14-12, led by a superb performance from senior Cecily Pierce.
With the victory, the 'Cats improve to 7-5 on the season, while the Hawks drop to 6-4 overall with the loss.
Monmouth opened up the game 5:39 into the first half on a goal by Meg Brown. Villanova knotted the score at one apiece with a score from Bess Hanley and then went ahead 2-1, on a goal by senior Sarah DePeters less than three minutes later.
At 18:48 into the first half, the Wildcats powered back from a 4-3 deficit to score three unanswered goals and take a 6-4 lead into the break.
The Hawks began the second half by netting the first two goals, to tie the contest at 6-6. Villanova then went on another run, outscoring Monmouth 4-0 in the next 7:44 to regain the lead at 10-6. After Monmouth answered right back with four unanswered goals of its own to tie the game 10-10, the 'Cats pumped out four more goals in the next 3:21 of the game to clinch the victory, 14-12. The run was highlighted by three consecutive goals by Pierce.
For the Wildcats, Pierce had four goals and two assists, while Hanley and Meghan Carolan each netted a hat trick. Also contributing to the Villanova win were DePeters, with two goals, in addition to a goal each from Katie Ardington and Katie Komlo. Brandy Grenier led the 'Cats in the net with seven saves.
For Monmouth, Brown and Beka Murphy led the Hawks with three goals each. In goal, Stacy Makris stopped a game-high nine shots.
Having already clinched a spot in the Patriot League Tournament this year, the Wildcats are taking a positive approach toward the remainder of the season, as the playoffs loom closer.
"We made [the playoffs] last year, but lost in the semifinals," junior standout Carolan said. "We are looking to take that experience and make it an even more positive one."
Carolan leads the 'Cats in scoring with 46 points, including a team-leading 34 goals, after Villanova's strong performance on Wednesday.
Carolan also noted the continuously intense and passionate effort that the team has demonstrated so far this season.
"We have a good few years of experience behind us and [we] are really starting to turn things around," Carolan said.
"Our main focus at this point in the season is to make sure that each individual unit is working together consistently for the entire game," junior Megan Firth said. "When our defense, midfield and attack are playing with intensity, we are unstoppable in the Patriot League."
The Wildcats will be back in action tomorrow, traveling to Lewisburg, Pa., to take on Bucknell at 1 p.m.