NROTC marches onto Mendel for Spring Review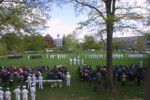 With the military's affinity for punctuality, the NROTC Spring Review and Awards Ceremony began promptly at 15:45 military time on Tuesday. The ceremony, which took place on Mendel Field, gave seniors and other midshipmen an opportunity to receive awards.
It was also a time for the traditional "pass-in review," where members march in front of an audience of family members, peers, veterans and superiors.
To begin the ceremony, Rev. Peter Donahue, O.S.A, offered a prayer, followed by the Whiskey Company, a group of University midshipmen competitive in rifle drills, giving an elaborate performance of throwing rifles and making formations.
Shortly after, dressed in summer whites, all 166 midshipmen of in the Unversity's NROTC program marched on the field as the Quantico, Va., Marine Corps Band played. NROTC student leaders carried flags and marched to the center of the large formation.
Upon the band's completion, Col. John Clauer, professor of Naval Science at the University, welcomed guests and introduced the review's featured speaker, Marine Corps Brigadier General Joseph McMenamin, '70.
Clauer noted the diversity of NROTC members, saying, "The midshipmen in this battalion are truly not one-dimensional students…they are well rounded."
He commented on the variety of activities in which students participate, including varsity sports like crew, track, football, softball and club rugby, as well as extracurricular activities like Villanova Singers, theater, student government, The Villanovan, Campus Ministry and numerous volunteer endeavors. He concluded his introduction with a statement of his faith in the NROTC members, saying, "We have confidence they can lead our Navy and Marine Corps well."
McMenamin spoke next. Reflecting upon the call for service, one of the three main goals of the military, he encouraged NROTC members to serve their country, their unit and others. After McMenamin's speech, 31 awards were presented to selected seniors and other members of NROTC.
Sophomore John Boring, recipient of the Cardinal Dougherty Knights of Columbus Award, commented on the efforts to make the ceremony perfect, saying, "Practice for spring review begins a week prior. Every morning some or all of the battalion are on Mendel Field perfecting their drill and memorizing scripts."
Boring continued, saying, "Whiskey Company practices even longer and harder than the rest of the battalion to perfect their trick routine."
Commenting on his award, Boring stated, "To be recognized for all the hard work you do, with your family and friends present, is something special."
Following the awards ceremony, members marched across the field as part of the pass-in review, as each company's comander was announced and the band played.
The ceremony concluded with the presentation of a gift from the NROTC program to McMenamin.