Quad to receive fall facelift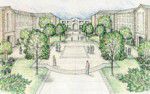 Students sit behind shady trees lining the outside of buildings and walk past flowers in full bloom. Large groups also enjoy gathering there and using it for events. No, this is not a description of Mendel Field or Sheehan Beach, but instead one of the new Quad landscape between Sheehan, Sullivan and Bartley Halls that Facilities Management is currently revamping.
According to Facilities Services Administrator Kevin O'Donnell, the idea for improving the Quad area has been discussed for years. Because of various other projects, however, the time was never right to re-landscape the Quad. Now that Bartley Hall is completed, Facilities Management felt that it was "an appropriate time to designate changes in the Quad design and layout."
To receive input from the many groups that utilize the Quad area, Facilities Management took a team approach to gathering landscaping ideas. A team of approximately a dozen people was appointed to discuss potential landscaping options for the Quad. Leo Kob of Facilities Management headed the team of representatives from Residence Life, Commerce and Finance, Peace and Justice, the Admissions Office and the theatre department.
"We wanted to get everybody's input in coming up with a design concept that would function well," O'Donnell said. "They were very helpful in making sure that the design not only looks nice, but will meet the needs of the campus community."
The new landscaping improvements will include repaving the main cement area between Sheehan, Sullivan and Bartley Halls, making it more aesthetically pleasing and easier for pedestrians to use. "We felt that we should be able to accommodate pedestrian use of the area and residents being able to move in and out, and also provide a large gathering space for special events," O'Donnell said.
Facilities Management has already started working on the landscaping, beginning preliminary changes over spring break. During spring break week, a new pathway was put in between Sheehan and Vasey Halls and some plants were removed. Also, a few trees were planted.
The next phase of construction will begin after graduation. Ground surfaces and the entrances to residence halls will be paved. Also, new plants and lighting will be put in.
While most of the pavement and landscaping work will be done by the fall, Facilities Management believes that the entire project should be fully completed by next spring. This is because landscaping and putting in new plants takes two seasons and needs to be spaced out. "As with any major project, we are limited to working during times when students aren't present," O'Donnell said.
O'Donnell refuted the rumor that a fountain would be placed in the middle of the newly refurbished Quad.
While many students support the new construction, some have also voiced concerns.
"I think they should concentrate on renovating the residence halls instead of improving the looks of the campus," Quad resident Karen Alelis said.
Sophomore Matt Hutchens is not in favor of the construction, saying, "It's too noisy…They wake me up in the morning and I think they do it on purpose."
In constrast, sophomore Matt Trapani believes the Quad renovations will benefit the University. "I think it's a good idea because it looks a lot nicer, but moving in is going to be annoying because there's no place to park," he said.