Westbrook taken by Eagles in NFL Draft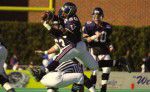 After setting the world of Division I-AA football on fire over the past five years, the Brian Westbrook show will be moving to a bigger stage. On Saturday, Westbrook was picked in the third round of the 2002 NFL Draft by the Philadelphia Eagles. Westbrook became the first Villanovan to be drafted since Oakland took Howie Long in the second round in 1981.
"I was hoping that Philly would take me," Westbrook said. "I've been in Philly for five years and there is a great fan base."
Westbrook should figure into Eagles' head coach Andy Reid's West Coast offense primarily as a third down back and on special teams.
"We're looking forward to adding him to the backfield and our special teams," Reid said. "We are intrigued with his hands. He catches the ball so easily."
Westbrook, who set the NCAA All-Divisions career all-purpose yards record with 9,512 yards in 44 regular season games, helped his draft status by playing in both the Senior Bowl and the Hula Bowl.
"We had an opportunity to see him play against NFL-caliber players," Reid said, "and he looked as quick there as he did at Villanova."
It will be interesting to see how Westbrook adjusts to the NFL game. At 5-8 and 200 pounds, Westbrook will have to rely on his speed and strength to keep him healthy against the bigger competition he will face in the NFL. He will have time to add some bulk, however, as he will play a secondary role to Eagles veteran running back Duce Staley and return man Brian Mitchell. Despite his lack of size, Westbrook is certain that he can make the transition from Division I-AA.
"I'm definitely confident that I can make that jump, especially [having gone] to the Senior Bowl and Hula Bowl," Westbrook said. "I can definitely make an impact on the next level. I have a lot of skills that a lot of people haven't seen yet and I'm going to continue to get better."
In his career at Villanova, Westbrook set 41 team records, 13 Atlantic-10 records and five NCAA records.
Last season, he led NCAA I-AA in both scoring and all-purpose yardage.
He won the Walter Payton Award as the top offensive player in Division I-AA, became a first team All-American for the third time and was named the Atlantic 10 and ECAC Offensive Player of the Year.
In 1998, as a sophomore, Westbrook became the first player in college football history to rush and receive for 1,000 yards in a season.
Westbrook becomes the second Villanova alumnus currently in the NFL.
Brian Finneran, a receiver who graduated in 1998, currently plays for the Atlanta Falcons. Westbrook also becomes the first Villanova player to be selected by the Eagles since John Mastronardo was selected in the 10th round of the 1977 draft.
-Villanova wire services contributed to this report.