'Nova "runs" up score on UNH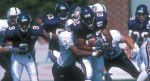 After suffering a disappointing home opening loss to Maine last weekend, the Villanova football team got exactly what it needed on Saturday.
'Nova took out its frustrations on winless New Hampshire in a 45-3 drubbing, giving the team its first conference win of the season, and first home victory on the year in front of a Parents Weekend crowd of over 11,000.
The win improves 'Nova's record to 3-1, 1-1 in the Atlantic 10, while UNH falls to a dismal 0-4, 0-3 in the Atlantic 10, extending on a nine-game losing streak which dates back to last season.
The victory was of the feel-good variety for the Wildcats, who were still smarting from a second-half collapse against Maine which led to their first loss of the season.
"We went into this game feeling good," Villanova head coach Andy Talley said. "We felt that this was a team we could score some points on."
And score they did.
The 'Cats wasted no time getting on the board, when tailback Terry Butler capped off a seven-play, 71-yard scoring drive with a four-yard touchdown run to give his team an early lead with 11:15 still remaining in the first quarter.
The 'Cats would continue to come at UNH the entire contest with a superb running game which featured contributions from several 'Nova backs.
UNH had no answer for Villanova's ground attack, which racked up 336 rushing yards compared to only 82 by New Hampshire. The 'Cats were led in that department by Butler, who recorded 18 carries for 95 yards and two touchdowns, and his classmate Henry Ridley, who had a breakout game, amassing 57 yards on eight carries as well as scoring his second career touchdown as a Wildcat.
'Nova's prowess at running the ball came at a good time, considering the status of its two best wide receiver options, seniors Brian White and Shaz Brown.
The 'Cats were without the services of White, who tore his hamstring in warmups prior to the Maine contest, while Brown has been plagued with cramps of late and wasn't at his best.
'Nova also had to go without starting tight end Matt Chila, who left the game at the half with a mild concussion.
"We ran the ball because we could," Talley said. "It was a good game for Terry [Butler] and we wanted to get Henry [Ridley] involved in the game. They were a nice one-two punch and took the pressure off of Brett [Gordon]."
Besides the strength of the running game, one of the bright spots for 'Nova was its ability to maintain its drive and focus in the second half of the game. Despite having a 14-3 lead at halftime, Talley was still concerned about his team's ability to close the door on UNH, with the specter of the most previous loss still fresh in his mind.
"I challenged them at halftime and said that if we want to get to that level, we have to get the job done," he said.
In the third quarter, it was obvious that the team had heeded the coach's call.
Villanova completely snuffed out any notions of a comeback that New Hampshire may have had by scoring 21 points in the period, more points than it has scored in all of its previous third quarters combined.
Prior to the game, the 'Cats had been outscored 44-15 in the third quarters of their games. The most impressive stretch of the game offensively for the 'Cats started at the 10:49 mark of the third and extended to the 10:03 mark of the final quarter, a stretch which saw 'Nova score four touchdowns and a field goal on five straight drives.
Equally as impressive was the defensive effort which 'Nova put forth against UNH.
In its highest scoring affair of the season, the 'Cats also allowed the second-lowest amount of points thus far. The Villanova defense held New Hampshire to a mere 131 yards of total offense, while allowing the only points for UNH to come from the foot of its kicker on a 32-yard field goal in the second quarter. New Hampshire quarterback Mike Granieri, meanwhile, had to attempt to run his offense in the face of several menacing 'Nova defensive backs.
Linebackers Brian Hulea and Jamison Young, in particular, terrorized Granieri all day.
A monster sack by Hulea with 4:10 remaining in the first half gave Granieri something to think about in the locker room and proved to be a sign of more to come in a second half which would prove to be as inefficient for New Hampshire as it was prolific for 'Nova.
"The offense really is starting to feed off the defense," Young said. "It helped put us in a better position to score. Each game we're just building and building."
The 'Cats will be looking for another "growth spurt" on Saturday night when they travel to Harrisonburg, Va. to face the Dukes of James Madison University at 6 p.m. In their last meeting, 'Nova defeated JMU in double overtime.