'Cats set to Duke it out against James Madison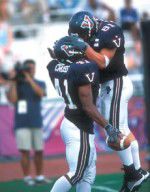 HARRISONBURG, Va. – After annihilating New Hampshire, 45-3, last Saturday, the Wildcat football team is looking to gain its second Atlantic 10 conference victory Saturday when they travel to James Madison University in Harrisonburg, Va.
Villanova gained strong efforts from sophomore running back Terry Butler, quarterback Brett Gordon and running back Cameron Cross against New Hampshire last week. Terry Butler posted 95 yards on only 18 carries, along with his first career two rushing touchdown performance. Cameron Cross brought in scoring passes of both five and 22 yards, while quarterback Brett Gordon handled the passing game. Gordon completed 14 of 20 passes for 168 yards and two touchdowns, bringing him to the highest pass efficiency in the Atlantic 10.
Coincidentally, the James Madison Dukes have the worst pass efficiency in the Atlantic 10, helping give them even more incentive to use their strong running game. The Dukes have rushed for 331 yards the past two games, while only allowing a total of 94. Their passing game is still present, however, as quarterback Matt LeZotte passed for 113 yards and wide receiver Alan Harrison recorded 135 yards and a touchdown on five receptions in James Madison's overtime victory against Hofstra.
James Madison's real story is Burke George, who for the second week in a row, was nominated Special Teams Player of the Week. George booted a crucial 50 yard field goal in the second overtime to lead the Dukes past Hofstra in their 24-21 victory. JMU also earned the Offensive Player of the Week award. Recipient Rondell Bradley rushed for 177 yards on 32 carries, both career highs.
Villanova also received some weekly recognition, as linebacker Brian Hulea earned Rookie of the Week honors. Hulea posted six tackles, which included an impressive five unassisted, along with two sacks and two tackles for a loss. Hulea helped 'Nova allow just 32 rushing yards in 29 attempts last Saturday.
The 'Cats have to look to limit the Dukes' running game while capitalizing on their own. Villanova used its running game immensely against New Hampshire, rushing for a total of 316 yards. The 'Cats also have to continue to use their passing game, with senior quarterback Brett Gordon's leadership helping them record large yard totals. 'Nova already has the highest amount of total passing yards in the conference.
'Nova will look to continue its strongpass defense this weekend as well. The 'Cats' 145.2 yards allowed through the air per game are the fewest in the league and 24th nationally. This is quite a difference from last year, when they finished 10th in the conference in pass defense. Also, the Wildcats have recorded five interceptions, which marks them at third in the league, as well as second in the league in passing touchdowns, allowing only three.
The Dukes' rushing offense is its key to victory, as they are second in the A-10 and 15th nationally and owe much of this success to the conference's leading rusher, sophomore Rondell Bradley (433 yards, five TDs).
The 'Cats also have to overcome the obstacle of two major team injuries, wide receiver Brian White, who is out with a leg injury, and tight end Matt Chila, who left last game due to a concussion. Participation from both players is questionable. A victory for the 'Cats would even them with the Dukes in the Atlantic 10 conference and push their overall record ahead to 4-1.