Battle of the Wildcats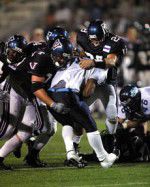 After an upsetting loss to Maine last weekend, the Wildcats are looking to bounce back and pick up their first Atlantic 10 victory this Saturday against New Hampshire.
They're hoping for leadership roles from quarterback Brett Gordon and wide receiver Shaz Brown, who recorded 187 all-purpose yards against Maine, giving him a new single game career high.
Villanova will also be looking to improve its kicking game after place kicker Adam James failed to connect on his four field goal attempts, one of which was a meager 32-yards.
Head coach Andy Talley still has high hopes for his young freshman place kicker.
"Adam's probably the best kicker we've ever recruited," Talley said. "He's a strong kid mentally and he'll be our kicker all year."
Talley also said they would use less fourth down opportunities for field goals unless they are within 35 yards where the percentage chance is greater.
The Wildcats are hoping for some small contributions from senior wide receiver Brian White, who suffered a deep muscle tissue pull against Maine.
"If we use him, we'll use him in the red zone or on critical third downs," Talley said, referring to White's ability to participate against UNH. Because of White's absence against Maine, the Black Bears' defense had the opportunity to focus primarily on Shaz Brown.
In order to not afford New Hampshire this same luxury, Talley is hoping to use tight end Matt Chila and receiver Johnny Dieser, who led the Wildcats with six receptions against Maine.
'Nova also has to focus on maintaining its momentum into the second half, something it failed to do against Maine.
After holding a 14-point lead into the third quarter, Villanova went scoreless in the second half to bring the Wildcats to a 21-14 loss.
Talley feels this came from the fact that the teams are comparable.
"It's a league that's incredibly balanced. It's just discouraging for the players when the team drives up the field and doesn't come up with anything."
New Hampshire is looking for its first victory this season.
Key player Stephan Lewis rushed for 78 yards and two touchdowns, along with 85 receiving yards on seven catches in New Hampshire's 52-28 loss to Hofstra last Saturday.
Linebacker Amir Saadah led New Hampshire with nine tackles, continuing his streak of team-leading tackles to all three games this season.
A victory on Saturday would snap New Hampshire's eight game losing streak, with its last victory recorded last October.
Villanova and New Hampshire matchups have traditionally resulted in high scoring games, usually due to both teams' weak defense.
This year, Talley is confident that with the improvements of Villanova's defense, they can exploit New Hampshire's defense and apply their passing offense while still maintaining a good balance of run and pass.
"They don't blitz a lot, and their defense has been their problem," Talley said.