Touchdowns abound for Westbrook, Finneran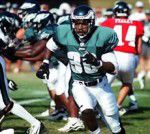 Villanova isn't exactly known for being the football powerhouse of the Philadelphia area.
The games never get much publicity beyond the always-entertaining Villanova channel, yet this last weekend proved to be one for the football program to hang its hat on.
To go along with a 45-3 demolishing of New Hampshire, two former Villanova football standouts continued their success on the gridiron of the National Football League.
Philadelphia Eagles rookie running back Brian Westbrook and Atlanta Falcons third year pro wide-out Brian Finneran both made major contributions to their respective teams in victories for the Eagles and the Falcons.
While only in his third week on an NFL team, Westbrook is already receiving high accolades from Philly's front office.
Even though he plays in a very crowded backfield, he has made the most of his limited carries.
With only a five combined touches and receptions for thirteen yards, it was Westbrook who arguably closed the door on the Dallas Cowboys for a Philly victory.
Westbrook who connected with Todd Pinkston on a 25-yard touchdown pass (yes you read right, a touchdown pass) on one of three Eagles trick plays.
Finneran had an even more successful weekend than Westbrook. The reason Finneran hasn't received as much national attention as he should have is because Michael Vick is the closest thing to a messiah in shoulder pads anyone will ever see.
Vick connected with Finneran six times on Sunday night in a nationally televised game.
Two of the six passes were touchdown passes, and all combined Finneran racked up 77 total receiving yards.
In the last three weeks Finneran has caught for 173 yards and two touchdowns, which leads the Atlanta Falcons team.
At six foot five inches, he is a rather large target for Vick to find when the Falcons need some yards.