Field hockey team shuts down Lafayette in overtime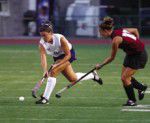 The monkey which resided on Villanova's back during overtime contests last season has officially been shaken off. In their first game of the season, the Wildcat field hockey team defeated Lafayette, 2-1 when junior Colleen Helms directed a sprawling reverse stick flick into the right corner of the cage with 12:21 remaining in the extra period. Head coach Joni Milhous expressed relief at the fact that her third-ranked Big East team is now able to win in overtime.
"I told the girls that we won our last overtime game and we could do it again," she said, in reference to the team's semifinal Big East tourney win over Boston College last postseason. In a season which saw four of the 'Cats' six losses come in the extra stanza, the implications of the Lafayette win are huge.
'Nova dominated the less-talented but always competitive Lafayette squad throughout the game, yet were unable to get on the board until the 11:14 mark of the second half when freshman Sarah Francis rocketed a shot from point blank range off a corner to knot the score at one all.
"We had trouble finishing in the first half and missed seven shots on goal," Milhous said.
Early in the overtime period, Lafayette came out striking with two quick shots on goal, but once Villanova settled in, it made quick work of its opponents for the win.
Timely offense combined with solid defense, the cornerstone of this Villanova squad, to edge out Lafayette. Ironwoman senior goalkeeper Meghan Helwig, who has started every game in the net for the 'Cats since her freshman year, was strong in net, making crucial saves througout the game, particularly in the second half. Fellow classmates and backs Kristen Strocen and Sarah Burdette also frustrated Lafayette, combining with Helwig to shut them out in the second half and overtime. The debut of the freshman class was impressive as well, with Francis, forwards Katie DiLullo and Rory Rogers, and others making immediate contributions.
Although it perhaps wasn't as dominant of a win as they might have hoped for, the 'Cats will take the victory however it comes to them. Up next will be a weekend road trip where the 'Cats will face non-conference opponents Delaware and Richmond. For Milhous and her team, the focus is clear.
"We just want to work on being a disciplined field hockey team and finishing on the offensive end," she said. After their performance Wednesday night, it looks like the Wildcats are well on their way.