Jones speech spurs verbal showdown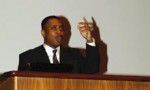 A verbal altercation in the Connelly Cinema on Tuesday night led to the Department of Public Safety being called to restore order.
A lecture by Reginald Jones was prolonged into an explosive three-hour debate when Dr. Cynthia Glover, a professor in the Sociology department, angrily objected to Jones' views on affirmative action.
The lecture was part of the Political Speaker Series hosted by the Villanova University College Republicans. During the question-and-answer period, Glover strongly voiced her objections to Jones's views, calling them violent. She walked out of the event, as did some other students. Most other audience members remained for the duration to participate in a fiery debate on a variety of issues, including education reform, racial profiling and political awareness.
The question-and-answer period following the speech began with a lengthy response by Glover. Chris Graver, president of the College Republicans, asked Glover to stop talking, which sparked a loud shouting match between the two. The disagreement then evolved into a very loud argument between Jones and Glover, which escalated to the point that Public Safety was contacted.
Glover later said she objected to the event because of its one-dimensional and non-scholarly quality. "This event was aimed more at entertaining than educating," Glover said. "Affirmative action is a very serious topic, and alternative views should have been encouraged. The attempts to stifle me were extremely disrespectful."
"Dr. Glover was being disrespectful," Graver said. "Our club invested a lot of money and time into having Mr. Jones speak on our campus, and I thought other students should be given time to ask questions."
The controversy was centered on a College Republicans flier that presented the terms "affirmative action" and "racial preferences" as synonymous.
"I disagree with the way this event was advertised," said Sheriann Gall, vice president of the University's Black Cultural Society. "There are definitely misconceptions of what affirmative action means."
Glover likewise took issue with the College Republicans' view that affirmative action and racial preference are equal. She defines affirmative action as "positive progressive steps [for] persons historically denied access due to discrimination … while not guaranteeing them any reserved slots or any preferential treatment in decision-making."
Graver defended his club's position. "Affirmative action is a euphemism for racial preference," he said. "It gives a slight advantage to certain racial groups based on their skin color.
"Our highest goal for the Political Speaker Series is to incite people to think, and in that way I think this event was a great success."
Jones was encouraged by the controversy, telling the audience to continue to question their leaders and pursue political awareness. "I'm going to speak my mind even if it makes people uncomfortable," Jones said. "These are very emotional issues. The important thing is that we don't let anyone outlaw thought."
In his criticism of affirmative action, which the University endorses, Jones said these policies have lowered the bar for educational standards, and that admissions decisions should not be based on race. However, he said private universities like Villanova have the right to set their own policies.
As a public speaker, Jones has gained national notoriety for his views on controversies within the civil rights movement. He is known for his criticism of current African-American leaders, including Jesse Jackson and Al Sharpton, because of their tendency to support government solutions to issues concerning African-Americans, such as poverty and unequal educational opportunities.
"The leadership expects others to do for us what we should be doing for ourselves," said Jones.