'Nova falls in opener at Madison Square Garden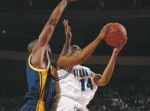 A game on national television, at the world's most famous arena, against a top 20 team: this type of scenario is what most teams and coaches hope for to show the nation that their team is for real. At the Coaches vs. Cancer tournament at Madison Square Garden, the Villanova men's basketball team fell to No. 18 Marquette, 73-61, showing that although they do belong on the national stage, they will have to work pretty hard to stay there.
'Nova head coach Jay Wright and fans were reminded that this is indeed a young team, one which shows promise but is still hurt by the absence of key players, such as Gary Buchanan, who is nursing a knee injury, and bruising forward Ricky Wright, who was a non-factor, fouling out of the game with eleven minutes still left to play.
After two quiet exhibition game performances, freshman Jason Fraser showed his stuff, putting together a double-double against Marquette with 13 points and 13 rebounds. Classmate Allan Ray continued his consistent play, leading the 'Cats in scoring with 16. Other bright spots for 'Nova included an advantage in the rebounding department, where they out-hustled the Golden Eagles 53-43, including an impressive 31 on the offensive end. However, 'Nova fans were repeatedly frustrated by watching the 'Cats botch most of the second-chance lay-ups that came as a result of the offensive boards. 'Nova shot only 31 percent from the floor, including a dismal 3-26 from downtown. Marquette, on the other hand, punished the 'Cats from three-point range, with five different players hitting from beyond the arc.
A large part of Marquette's success, in addition to the balanced scoring, was the play of All-American Dwayne Wade. Wade led all scorers with 17 points, while notching four assists and five rebounds in 33 minutes of play.
The 'Cats were able to come alive somewhat in the second half, hitting a flurry of threes at the end of the game, and ended up outscoring the Golden Eagles 38-36 in the second stanza. However, it was not enough to dig themselves out of their first half hole.
After the game, both coaches and players acknowledged the strengths of each team, with Marquette head coach Tom Crean commenting on the youth and potential of Villanova. In turn, Fraser remarked on the fine all-around play of Wade.
"He beats you with his mind more than his skill," Fraser said. "Those are the toughest type of guys to play against."
If 'Nova fans are worried that their team isn't going to live up to the high standards, they should heed the words of Fraser.
"We're not going to be perfect right away," he said. "To get from A to Z, you have to go through B first."
The 'Cats will be working their way through the metaphorical alphabet when they face city-rival Drexel tonight at the Pavilion.