'Nova fans: faithful or frightful?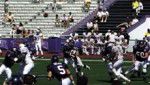 Imagine having the best seats in the house to a college football game featuring two of the top teams in the premier conference in the country duking it out for a playoff berth. And now imagine not being able to cheer for the home team, which you've watched play extremely hard all season long in several thrilling games.
As sports editor for The Villanovan, this is something which I experience every week. But the pressure of having to maintain the professional, impartial attitude of a reporter with the die-hard Villanova fan in me aching to come out isn't nearly the most frustrating part of my fall Saturday afternoons. As I look out beyond the new turf field and into the stands of Villanova Stadium, one question runs through my mind each and every week: where is everybody?
Apparently, I am not the only one asking this question. As I checked my voicemail on the sports phone on Monday, I was particularly moved by a message I received from a dedicated Villanova fan. The man who left me this message was so perplexed by the mediocre attendance at Villanova football games that he was moved to call up our newspaper to try and get some answers. I only wish I could give them to him, but honestly, I'm just as baffled as he is.
Currently, Villanova's football team is ranked 11th in the country, according to the latest polls by ESPN/USA Today and The Sports Network, while playing in the Atlantic 10, which is recognized as the top conference in all of Division I-AA football by the Sagarin ratings. With their most recent win over William & Mary, the Wildcats have given head coach Andy Talley his 13th winning season in 18 years as head coach.
Last season, standout running back Brian Westbrook earned the Walter Payton award, given to the best player in Division I-AA football, and is currently seeing significant playing time for the Philadelphia Eagles. Former Wildcat wide receiver Brian Finneran is enjoying success in the NFL as well, starting at wideout for the Falcons. He is also a Walter Payton award winner. And let's not forget that Hall of Fame defensive end Howie Long also calls Villanova his alma mater.
In 2002, the co-defending Atlantic 10 champion Wildcats are once again in the hunt for top honors in the conference, and the win over William & Mary kept those hopes alive. Despite the loss of Westbrook, the Wildcats have put together an extremely impressive season, one which, sadly enough, many Villanova students are completely unaware of.
A look at the stats gives an even more compelling argument to the team which most 'Nova students are missing out on. The Wildcats currently rank in the top three in no less than 18 team statistics, while being the leaders in 10 of them, including both total offense and total defense, third-down conversions, pass efficiency and time of possession, to name a few. The 'Cats are also tops in five individual categories.
Leading the way in this department is fifth-year senior quarterback Brett Gordon. Listed as a potential candidate for this year's Walter Payton award, Gordon is leading the Atlantic 10 in passing average per game, pass efficiency and total offense, while leading the conference in 300-yard passing performances with three on the year. For his efforts, Gordon has so far been named Offensive Player of the Week, a conference-leading three times this season. 'Nova players have been named conference players of the week six times thus far on the season and both Gordon and senior wide receiver Brian White were named National Offensive Player of the Week on two separate occasions as well.
The statistics don't lie, and the bottom line is that this team is very good. However, most people would rather sit at home on their couches and watch teams like Notre Dame or Ohio State battle it out for bowl games than support their own school.
Don't get me wrong, I'm just as big of a college football fan as the next guy (or girl). But if you think that Division I-AA football is a joke, just ask Rutgers University.
Although the Scarlet Knights of the Big East have only one win to date on the season, they came just as close, if not closer, to beating Miami and Virginia Tech as they did to beating us.
The Wildcats' convincing season-opening 37-19 wire-to-wire win at Rutgers has proven to be an indicator of just how good this team can be.
So before this football season is over, you should consider trading in your dormroom couch season tickets, putting on your winter coat and enjoying the intense football rivalries that take place right in your own backyard.
You can always catch the Notre Dame highlights on ESPN.