Our Lady Peace defies "Gravity" at 'Nova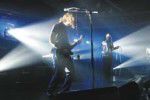 Those expecting a concert that was "Somewhere Out There" were surely not disappointed at the Greenwheel/Our Lady Peace concert on Nov. 23 in the Connelly Center.
If you missed the concert or decided not to attend, the bands played for a solid three hours and rocked Connelly Center's walls until they figuratively cracked.
The concert started off with the up-and-coming band Greenwheel. Though the concert was headlined by another, Greenwheel was a pleasant surprise to those who attended. A proper mixture of rock and pop, songs such as "Shelter" and "Breath" gave a good indication of what its CD "Soma Holiday" is all about.
After Greenwheel, the real entertainment of the night began. Our Lady Peace started with the first two songs straight off of its newest CD "Gravity." Setting up non-familiar fans, Our Lady Peace tricked some people into thinking that the concert ahead of them was a plain CD covering.
But immediately after the second song, it converted from its newest material to some of its earlier delights. "Superman's Dead," a cult-following song off their second CD "Clumsy," lit the audience's imagination through the band's first acoustic venture of the night.
From the third song to the very last of the set, Our Lady Peace presented a great mix from every one of its past CD's.
In addition, songs off of the 1999 CD "Happiness … Is Not A Fish That You Can Catch" and the 2001 release "Spiritual Machines" added to the mixture of feeling and history presented within the concert.
Though many people came to hear their favorites off of the band's newest CD, "Gravity," Our Lady Peace did indeed play the whole album.
With the performance over, the crowd begged for more. With nowhere to go and more to play, the band remained on stage to play songs from "Spiritual Machines," including latest hit "Somewhere Out There."
Our Lady Peace has impacted Villanova through music and energy. If you were there, you know the feeling. If you missed it, look them up. Our Lady Peace is surely a band for the ages.