Born to perform: Worth the touch, Feel plays the Main Line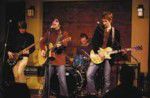 If you haven't made a cameo at The Point yet this year, jot it down on your to-do list and pull out your palm pilots. This cozy gourmet coffee bar on Lancaster Avenue brings you some jammin' java — literally. In one motion, you can intellectually sip away at your French-roasted beans, delicately eat your chicken panini and rhythmically bop your head to some of the area's freshest talent. The latest show I caught at The Point introduced the Los Angeles-based rock band Feel. Like any true L.A. band, style is the name and performance is its game. On their new self-titled debut album, Feel resembles a musically altered mishmash of the best qualities from The Beatles, Third Eye Blind and Oasis. The four-man gig took center stage clad in revealingly tight jeans, mop-top hair and the most impressively coordinated brown and black garbs I have ever seen. Just by sporting a throwback style these boys took cool back to school. They warmed up the mic, trying to cajole the super-wired, uptight, caffeine-driven coffeehouse goers to soften their wired expressions and loosen the iron grips from their orange-mocha venti lattes. Soon enough, the crowd succumbed, letting themselves sink into the plush velvet couches while savoring the scene. A chord was strummed and the event began. Everything from catchy guitar riffs to the Paul McCartney bassist look-a-like made me feel amidst a roaring following of Beatlemania. The effervescent aura coming from Feel's synchronized gestures and striking camera-ready energy revealed they were born to perform. Watching them bounce on stage was contagious. Soon enough the rhythm took me hostage, my foot was tapping like a metronome and four songs later, the high-strung audience was spotted dancing and flailing everything from appendages to bodies. With every new song played, the melodies were insatiable and you couldn't take your eyes off the lead singer and main guitarist answering each other with electrifying, improv guitar solos that were better than just good, they were darn good. The audience was left ready to reach into their back pockets and start waving their lighters back and forth in the air. Talented, harmonious and attractive: you gotta "feel" it to believe it.After the show, I stole a few moments backstage to chat it up with the charming lead singer/guitarist Scot Sax.Genevieve Leon: So I hear you're a Philly native, right?Scot Sax: I am, actually! Yeah, I ran around with no clothes on, chanted and did the whole tribal thing. I've been a native since birth (laughter). Actually, I grew up in Plymouth Meeting.
GL: As a Philly native, which is the better cheesesteak: Pat's or Geno's?SS: Neither. Actually, Jim's…yeah, in fact I pick Jim's 'cause they cut the steak up, plus I went to Pat's one time and when I pulled up, this little girl started throwing up and apparently had just downed a cheese-steak. Everybody got out and it was so nasty that I never ate there again.
GL: Since you're basically home, what do you consider a Philly "must" for anyone visiting the area?SS: Definitely the water-ice place, John's Water Ice at 7th and Christian. I actually lived in the neighborhood for a little while and always ordered a "little yellow," that's what I liked to call it. I'd be in bed and I wanted to sound "bad" so I'd be like "Just get me a little yellow, man." Er, small lemon … that's a must (laughter). I like Book Trader on South Street; that's one of my favorite places to go into.
GL: OK, so on to your hit on the "American Pie" soundtrack when you were called Bachelor Number One with the song "I am the summertime." How did you get from Bachelor Number One to Feel?SS: Uh, well, it's a blurry and winding road. We live out in Los Angeles where everyday is the same weather and you literally forget what season you're in (laughter). Bachelor Number One was something that just kind of fell into our laps and wasn't planned at all. I moved up there to write songs and at the time it was just Mark and I in the recording studio.
GL: So while writing songs, you just found two new band members along the way and formed "Feel?"SS: At that point, I was just writing songs and Mark was helping me demo them. My job was basically to write songs, which is the best job in the world. Bachelor Number One wasn't really a band; it was just Mark and I. When "American Pie" got really big, we found Dave and then started touring in Europe and everything was just bizarre. Later we met Billy and then that was it — that was the moment we became a band. Around Christmas of 2000, I just stayed home for awhile, wrote from the heart and created the blueprint for our new album. As time went by, we started building a sound and became "Feel."
GL: While listening to your new album, your sound reminds me of The Beatles songs and the great, old music I grew up hearing my dad play on the guitar. What influenced your sound?SS: The Beatles thing comes up a lot, and I can't deny that I love them. They invented the rock band and it all starts and ends there, it's like "you're not going to top it; forget it!" That's just something that's in my blood, but as a songwriter, all types of music influence me. I like Carole King a lot, you know — Just great songs. You can always tell when somebody means it when they write a song. I think there's a really big difference between a song and good song. I can tell the difference in a second, and I'm not the kind of guy who goes out and buys a new band's CD because they're supposed to be cool. Either it's good, or it's not good — at least in my opinion. I've been writing songs since I was 13… do you want to hear the first song I wrote? Okay, here it goes… (Scot picked up his guitar and proceeded to serenade me).
GL: Where do you look for inspiration?SS: I just listen to people. It's almost never when there's a guitar around. I think it's important to have a life outside of what you do, because you need to live. Sometimes I'll just walk by some stores or open up a page in a book and things will click. The second half of a verse in our new album was written from a snippet of a conversation that I overheard somewhere when I was in the city. I put the sentence together from what I heard. I like to make verses of what I hear people talking about and what's going on in my life. It all just sort of pulls together, and when I pick up the guitar, everything just comes back to me and I write from a stream of consciousness.
GL: If you had to pick any artist, dead or alive, to collaborate with, who would it be and why?SS: Lindsey Buckingham. I just have always loved Fleetwood Mac, and his sense of melody was always a big influence. I would be intimidated to a point, but I'd feel like we'd be able to connect. I feel like when I listen to his music, it just seeps into my blood and I can really feel it. I hope he really gets back into the limelight because I don't think people see how unbelievable he is.
GL: What do you feel you can bring to the rock music scene?SS: Our goal was to make a record that people would love. I'll never forget times that I bought a record and I loved it. When we got our record deal, it was something so special to us that we decided we would rather fail and love our record, than succeed with something that doesn't mean anything to us. We made sure that we really loved it.
GL: What has been your most momentous performance yet?SS: Well, we booked a tour on the East Coast and just from that experience and the whole 9/11 thing, everybody with their friends and families grew closer and we ended up playing in New York a few days after 9/11. We played in Greenwich Village, about a mile from ground zero, where there was still dust on the windows and, honestly, we expected no one to show up. To our surprise, the place was packed. It was the first weekend people went out and we truly were in a situation where all we could do was just play. There was none of the "How's everybody doing tonight!" enthusiasm, so we just played, connected with the crowd and brought music to New York. It all just sort of brought us back home to why we even pick up our guitars in the first place. We wanted to deliver New York just what it needed — chances for people to escape the horror of 9/11, breathe and enjoy an evening.
GL: Any unusual perks that come with touring?SS: It's all unusual. It's one big continental breakfast. You really get to know what continental breakfast means. That's another phrase for "We don't have any breakfast!"
GL: So is breakfast for the band a few cigarettes and a Diet Coke?SS: On the road, you know you can't start messing with food. You can't eat crap or else you start looking and feeling like it. We started off with a nice healthy diet of vitamins and like oatmeal and yogurt and by the middle of the tour, we went to Maker's Mark whiskey (laughter). I'm serious, when we left, I brought my yoga mat and half way through the tour we were using it as a place mat for taking shots in the RV.
GL: Now that you're on tour and living the rock star life, is it everything you were hoping it would be? Any experience with groupies pawing at your ankles?SS: Oh no, no, no, definitely not like that. The only quasi-experience that would qualify is when we went on tour with Collective Soul and were playing in front of 3,000 people a night … I'll be a gentleman and not disclose the details (laughter). After that tour, things kind of dissipated and everything came and went so fast that when we came out with this album, our label wanted us to establish ourselves through a lot of ground work first. It's a little like running for president, it really is. You go around, spread your name, your music, shake hands … Okay, so it's a little different than running for president, but hey. We rented a mobile home when we left for the tour from Los Angeles and life was a little like "Road Rules." Our job was to visit every radio station that was playing our song. We showed up without reps, as the real deal. Really, it was just four guys in an RV with guitars. There were highs and there were lows … the highs were playing with LL Cool J in Las Vegas, which was unbelievable — Caesar's Palace in front of eight thousand people. The lows were the tailgate parties in Buffalo for the Buffalo Bills game with no one giving a s–t, oh wait, hold on … maybe those two scrawny girls from Hooters. It's official — we're the only band that gets flat-chested girls from Hooters. That was our luck in Buffalo (laughter).