The 'garage band kings' are genuine rock royalty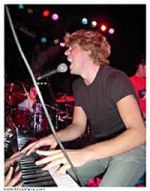 There's an undeniable difference between a band that sounds good on its album and a band that can match that skill in its live performance. For anyone who attended Saturday night's concert featuring Fiction Plane and Something Corporate knows these two bands know how to work a crowd and work it well. Something Corporate stole the show in every way. From the second the band stepped onstage, the crowd was hooked and the energy was up. Even though lead singer Andrew McMahon has been sick with a nasty case of bronchitis, the audience never would have guessed by his performance that evening. He belted out those soulful lyrics with as much heart as five healthy singers. Guitarists and background vocalists Josh Partington and William Tell got the energy pumping while drummer and vocalist Brian Ireland and bassist Clutch rocked the stage. Something Corporate played some of its best songs, such as "I Want To Save You" and "Fall." The highlights were definitely the romantic love ballad "Konstantine" and the crowd favorite "Punk Rock Princess." For the finale, McMahon — in true rock star fashion, set his piano and stool on fire. Anyone who knows Something Corporate has learned not to expect anything but the best from this amazingly talented band. We recently got to meet Partington to ask him a few questions about who Something Corporate is and what they are all about.
Elissa Vallano: Have you noticed a difference between your West Coast and your East Coast fans?Josh Partington: There are subtle differences, but they are basically the same. East Coast fans are newer, only because we have been playing the West longer and our fans started there. It's not like we're huge in one place and not known at all in another. We've become more generally known. But because we have played in Chicago so many times, it's our eighth time performing there, we've really built something special with those fans, and they have become one of our biggest markets.
EV: If you could design your own tour, whom would you want to perform with you?JP: That's a hard question. In a way, what we are doing now is ideal. We get to co-headline with Julianna Theory, which is really a perfect balance. We get to play our show and do our thing without all of the show focused on only you. It's good to leave the crowd wanting more. Of course, we'd love to go on tour with Foo Fighters, Incubus or Counting Crows. Rolling Stones would definitely be number one. That would be the raddest tour, but who knows if that could ever happen in this business.
EV: Best talk show host: Letterman, Leno or Conan?JP: Well, I would definitely say Letterman for me, but the band would probably say Conan. Some of us like Leno, some of us like Letterman, but we all like Conan. He's really funny. We've gotten to play Kilborn, which was cool.
EV: If Saturday Night Live made a parody of your band, who would play each of you?JP: Chris Kattan would definitely play Andrew. I'm not sure who would play Brian, but I would say Will Farrell would play me. Jimmy Fallon would play Bill, and Clutch would have to be played by the guy who does "The Ladies Man." Tim Meadows.
Eric D'Orazio: Where did the band get its name?JP: It kinda got its name sometime in high school. Back when we were starting out, we were looking for a distinctive name. We all agreed that music at the time was "something corporate." In time, our name became the same.
ED: At what moment did you realize your rock stardom?JP: I don't think we have, at least I don't think we are rock stars. We're more along the lines of being popular. With rock stardom, it becomes a lifestyle, not a life. We take our jobs very seriously. In truth, it's important to treat your life seriously. After all, we are musicians. We're just playing music.
ED: Do you have any regrets so far?JP: Not really. There are a couple of things we wish we did a bit more. We've seen so much while being able to play our music. I must admit, I've seen more of the United States than my parents have.
ED: What do you do in your spare time?JP: Lately we've been getting sick. It's our new hobby. Anyway, we usually sleep and stuff. We also check our e-mail on our website. We like to stay in contact with our fans. It's not like we can keep long term relationships with the fans, but we like to let them know how appreciative we are. After all, without them we would not be here. We're not above anyone else. Answering them is the least we can do.
ED: One of your most popular songs among Villanova students is your unreleased song, "Konstantine." Why wasn't it included on your debut album?JP: Because it didn't really fit. It did not really work out among the album's other songs. When we were recording "Leaving Through The Window," we saw it as a single piece of work, where all the songs flowed into one another. Though "Konstantine" is a great song, it would have stood out on the album.
ED: In your opinion, which is better: Burger King or Dairy Queen?JP: Oh man. Burger King, no way. I'd have to say Dairy Queen. It's just great, while Burger King is not really as good. After all, you can't really compare a Blizzard to a Whopper.