Dobbin backs soldiers, urges unity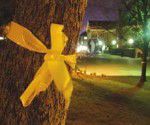 Although the Middle East is thousands of miles away, the war in Iraq is hitting close to home for members of the community. In response, the University has made an attempt to help students cope with the situation.
University President Rev. Edmund J. Dobbin, O.S.A., reached out to the University and acknowledged the controversy surrounding the war in Iraq through e-mail. He encouraged the community to recognize common ground in order "to unite as people of faith."
"We share compassion and support for our men and women in uniform who are in harm's way, as well as for those innocent people of Iraq who will suffer the brunt of the inevitable violence of war."
He emphasized the importance of prayer for a resolution to the conflict and advocated trust in God.
Dr. Joan Whitney, director of the University Counseling Center, also addressed members of the community in an e-mail that contained a link to the American Psychological Association's brochure entitled "Resilience in a Time of War," which included 10 tips for adapting to wartime stress.
The advice provided by the APA encourages students to talk about the war with friends and loved ones, to limit contact with the media while remaining informed, to stay healthy and to seek the help of professionals, which is offered through the University's Counseling Center.
"The Counseling Center does not promote a specific agenda, but rather encourages students to openly express their feelings," Dr. Frank Arricale, a psychologist in the University Counseling Center, said.
"It is impossible to escape the media's coverage of the war," sophomore Rachel Foley said.
"We are constantly bombarded with images of the fighting in Iraq. It reminds me that my brother is in the armed forces and could be sent over at any time.
He could be one of the next stories I see on the news."