Good Charlotte: Evolution of music's unlikely poster boys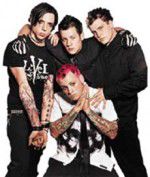 From local troublemakers in Waldorf, Md., to celebrity guest status at the Waldorf-Astoria, superstar success story Good Charlotte launches a ferocious plan for global domination with their new album "The Young and the Hopeless."
Sincerity strikes the right note in Good Charlotte's popular tunes that grace everything from MTV's Total Request Live to innocent humming bystanders. New fans burgeoning by the minute seems to be the effect of a too-good-to-be-true success that multiplied tenfold overnight for these good kids turned punk. Playing for the love and honesty of music on everything from high school jerks to Maryland pride, Good Charlotte's bassist Paul Thomas shares a little of the punk behind what's rocking the country.
Genevieve Leon: What inspired a lot of the lyrical themes for "The Young and the Hopeless?"
Paul Thomas: All songs are autobiographical and are basically telling the story of what we've lived; everything from high school to what we've grown through together as a band.
GL: Which song do you love performing the most and why?
PT: Definitely "Riot Girl." It's by far my favorite bass line to play. It's dynamic and has a kick-ass breakdown ending. It always gets a huge response from the crowd, which is the best part of this song.
GL: Growing up, did you ever envision this kind of success? Is this what you dreamed of doing?
PT: I guess you could call it a dream, the kind of dream that started in high school and didn't stop. We made a living off of music before we got big, so we accomplished our dream before going platinum.
GL: What's it like coming out of Waldorf, Md. and quickly earning a spot in the big time?
PT: Oh man, living in L.A. was a huge difference. Actually, thinking about it, it's just a bunch of cliques in high school out there. The girls and guys act are exactly the same, except in Hollywood they're celebrities. It's pretty much like moving from one high school to another, except really far from home. Yep, East Coast rocks.
GL: How do you feel about people labeling you in a genre of music with so many similar sounding bands out there? Where do you see yourself?
PT: Well, people can do what they want to do. We understand if they're trying to describe our sound, but we don't practice it. As far as we're concerned, we're just here to put our music out there. People try to describe and categorize us, they love doing that. I'd say we're just a rock band.
GL: How does it feel being unofficially crowned MTV posterboys of the moment?
PT: (Laughs) That was not part of the dream! It's definitely a little weird, though; adolescent girls screaming your name, everyone watching and knowing who you are. It's cool. But hey, it brings in a decent amount of money- enough to buy a house (laughter). It's happened so quickly, it makes you stop and think … it's all good.
GL: What's the absolute craziest thing you've seen a fan do for you?
PT: (Laughs) There was this one fan that kept trying to get our attention after a show. We went over and met her and she swore she was going to get our names tattooed after we all signed autographs. She caught up with us on one of our later shows, and she did it! She had all four of our signatures tattooed on her calves. That was so awesome.
GL: If you could have any superpower, what would it be and why?
PT: I don't think I'd want to read minds. There are a lot of twisted people out there and they'd mess me up being up in their minds. Oh, I got it-I would want to fly, that would be so freakin cool. I would go everywhere and anywhere. But I would never drink and fly (laughs).