Rain or shine, student bands to add flavor to Novafest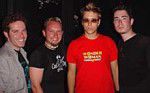 Burnt Sienna, a popular cover band that appears to packed houses regularly at Brownie's 23 East, will be headlining this year's Novafest. The five-member band covers modern rock hits and has also released an original CD entitled "Message from Q."
In addition, Burnt Sienna appeared at Villanova's homecoming celebration this fall and Finnegan's Wake this month. Burnt Sienna will play two sets of music at 3 p.m. and 4 p.m. at the Novafest celebration Saturday on Sheehan Beach.
Following Burnt Sienna on Novafest's stage will be Paterson, N.J.'s Copperpot, which is set to play at 5:15 p.m.
Its debut album, "Nothing Lasts Forever," was released late in 2000 and has been winning legions of fans since. Copperpot continues to play shows from the Northeast to California.
The Novafest music committee also gave Villanova student bands a shot at performing for the festival this year. After reviewing over 50 submissions, the committee narrowed it down to three of the best student acts.
First to play will be Paint on Face at noon. Paint on Face's unique rock sound features the talents of Villanovans Rob Snyder and Chuck Bonner. In addition to its gigs in the local area, Paint on Face will also be appearing at the Gettysburg College Buffet Bash.
Second to appear on the main stage will be North of the Knee at 1 p.m. Although it formed just a few months ago, this band has developed a strong following among Villanova students. The band features sophomores Lee Silver and Ryan Saylor. North of the Knee performs a distinctive blend of melodic emo and driving punk.
Later in the day, As Tall As Lions will take the stage. With junior Cliff Sarcona on drums, As Tall As Lions rocks the contemporary music scene. Last July, its independently released debut CD "Blood and Aphorisms" created quite a buzz and was given high praise from New York critics.
Along with the bands, nearly 20 student organizations will be hosting games and entertainment throughout the day. The first 250 people through the entrances will win gifts.
In addition to a tasty menu and free soda from Dining Services, Domino's Pizza and Esposito's Water Ice will be handing out samples of their wares. If you missed the Doc Marten sale, come out to the field for some great bargains on sandals.
Vendors will also be selling crafts, jewelry and other fun spring items.
The festival will be held rain or shine from noon to 6:15 p.m, all that changes is the place. Should it rain, check your e-mail – and come out for all the fun as the festival moves a few hundred feet into the Pavilion.
The Novafest committee also encourages you to attend Friday night block party in the Quad sponsored by Inter-Hall Council. Sticker, Villanova's 2002 Battle of the Band victor, will return to campus and will perform at 11 p.m. in the Quad. Join your neighbors for hot food, music and fun starting at 10 p.m.