New season, new faces, new challenges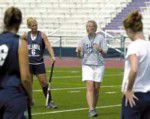 After bringing home a second-place finish in the Big East 2002 competition, the women's field hockey team is ready to kick things off with hopes in mind for another successful season. The 'Cats are expected to do well this year, as the team was picked to finish third in the conference in the coaches' preseason poll. "We've been runner-up for the past two years, so we're tired of being runner-up and we want to go after it this year," 'Nova head coach Joanie Milhous said.
Despite losing three key players, the team still has high expectations for their season. Sarah Burdette, who scored 20 goals last year, and Kristen Strocen, finishing with 19 goals, are both among those key starters lost.
The 'Cats also lost all-star goalie Meghan Helwig which will present a challenge to both the team as a whole and to newcomer goalies, freshmen Erin Scott and Alex Whalen.
"I would say it was hard coming in because you're the youngest one and everyone else knows what's going on," Scott said. "You're a little nervous because you pretty much have to tell everyone else what to do. The older girls made us feel welcome and feel comfortable so that now we can communicate to them. It is a lot of team effort and everyone is really supportive." As both Scott and Whalen smiled, Scott added, "great coaches, great team."
Milhous expressed confidence in both players. "I am very excited for them," she said. "They are very athletic and they're great kids with great attitudes. We're not nervous at all about them."
This year's schedule pits 'Nova against four teams that placed in last year's final National Field Hockey Collegiate Association poll. Milhous says that UConn and Boston College are both very strong teams this season and will probably present the greatest competition.
However, the combination of returning players and new players said they were ready for the challenge of this year's schedule. Senior offender Christina Lugones and junior defender Vanessa Pizzulli were both named to the 2003 All Big East preseason field hockey team. Last season Lugones finished with eight goals and nine assists. Pizzulli finished the season with two goals and nine assists. Other returning players include seniors Colleen Helms and Leah Lisausky, as well as sophomore Rory Rogers.
"I think it could be a really exciting year," Milhous said. "You don't want to say too much too early though." The team has only seen a little bit of action so far in a scrimmage versus Delaware. Since the scrimmage was during freshman orientation week, Scott and Whalen were the only freshmen able to play. "It was a great experience because we got our feet wet and it showed what we need to work on," Milhous said of the scrimmage.
The 2003 season begins tomorrow when the team will travel west to face off against Pacific, quickly followed by a game against Stanford on Sunday.