Casamento catapults 'Cats to victory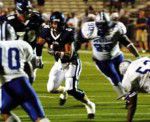 Last week, Joe Casamento quieted all the critics and answered all the questions that surrounded him going into his first start. After losing in the semifinal game last year, people in the football program had a scary epiphany; the Brett Gordon era officially ended. And now the hopes and dreams of another playoff run were put on the shoulders of an inexperienced sophomore quarterback.
Casamento came out gunning and led the Wildcats to an embarrassing 41-6 win over Hampton last Thursday night. He completed 24 of 30 passes, while collecting 250 yards and throwing three touchdown passes, stats that would garnish him the Atlantic 10 offensive player of the week.
It was evident on the first drive of the game that Casamento felt more than comfortable taking snaps. Starting from 'Nova's own 26, Casamento completed six of six passes for 54 yards, including a one-yard touchdown run to put the 'Cats on board first. Casamento, who played behind Brett Gordon the last two years, seemed not to be bothered by the real game speed.
"I was nervous all day," Casamento said. "I haven't played in a real game in a long time, but once you get out there, there isn't a lot to think about other than what has to be done."
"Just trying to get the play in and making sure everyone else is doing what they are supposed to do. And then you just lose yourself in the game and after the first couple of plays I felt real comfortable."
One of Casamento's main targets was Phil DiGiacomo, who led the team in receptions with nine for 69 yards, while catching a touchdown.
Noble Champen was the team's leader in total receiving yards, catching six for 77 yards, with 34 yards coming on a touchdown play, when Champen split the defense and Casamento hit him with a pass.
One of the more exciting plays of the game was when sophomore punt-returner J.J. Outlaw caught the ball in his own end-zone and instead of downing the ball or letting it get out of the end-zone, he decided to return it. Outlaw went for the corner and what seemed to be a run to nowhere, ended up gaining 52 yards and giving the 'Cats prime field position.
"That was one of those plays in coaching that you think 'what the hell is he…great play!" Villanova head coach Talley said. "J.J. is a very exciting young player and he is a big time player and will probably make some mistakes early in his career. He is a fun guy and as he matures I think he will be one of the terrific receivers in Villanova history."
Outlaw, who returned three punts for 74 yards, knew he made a mistake but was glad he was able to turn a bad decision into a good one.
"Coaches told me 'Heels on the ten [yardline] and don't back up,' and as I was watching the ball, I think punt returner instincts naturally kicked in and I started backing up," Outlaw said. "I was wondering where I was and I wasn't quite sure and I saw they [Hampton] had given me 10-15 yards and I saw Clarence [Curry] waving his hands to wave me on and it was one of those things that I told the coaches I would never do again."
Not to be overshadowed by the offense was the 'Cats defense who held Hampton to a measly six points. Brian Hulea led the way for the 'Cats with 12.5 tackles, 11 solo. The 'Cats had five sacks, coming from five different players, but what was even more impressive was the 'Cats number of tackles for a loss. Villanova made a total of 12 tackles and Hampton lost an amazing 69 yards on all those tackles.
Jamil Butler, who is the anchor of the defense, was very proud of the way the defense came out and asserted itself.
"I think the defense came out and did a great job, especially Alan Bacchus," Butler said. "Coming in as a true freshman, I know there is a lot of jitters, but he has really matured. He makes a mistake and on the next play he forgets about it. We just came out with intensity and were emotionally ready. I think that paid off tonight."
Another part of the 'Cats game that excelled again was the 'Cats rushing attack. They gained a total of 235 yards on 40 rushes. The 'Cats were lead by Mo Gibson who rushed for 129 yards on 13 attempts, including a 58-yard touchdown run. Terry Butler also chipped in with 49 yards on 15 attempts.
Meanwhile, Adam James started off well making all five of his extra points, with one bobbled snap.
"We played well tonight, the hitting was crisp," Talley said. "We didn't look like a sloppy first team with mistakes."
The 'Cats are going into a monumental game this weekend, when they will be the first team to walk on Lincoln Financial Field, taking on Temple at 4 p.m.