Order inducts priest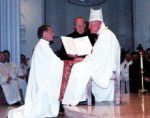 The rain did not dampen the spirits inside the St. Thomas of Villanova Church Saturday, when Father Robert P. Hagan, O.S.A. was ordained into the Augustinian priesthood.
Over 500 people attended the two-hour long service on Sept. 13, including many from the Villanova community. Presiding was Rev. Joseph F. Martino, auxiliary bishop of Philadelphia. Villanova student pastoral musicians provided the music, while several Augustinians took an active role in the ceremony.
"I have been through many Augustinian ordinations, and it was definitely the most powerful I have ever seen," campus minister Richard Balentine said. "It was profound [and] incredible."
Hagan's mother, sisters and an extended family of aunts, uncles, cousins and friends from grade school through law school also attended. His three sisters, Elizabeth, Meg and Mary Ellen carried up the gifts, while two long-time friends served as lectors. Rev. William McGuire, O.S.A., and Rev. Bill Atkinson, who were mentors to Hagan, vested him for the first time.
The highlight of the ceremony came when Hagan was offered to the bishop and congregation for acceptance into the priesthood. A typical response includes a round of applause.
However, on Saturday, the church erupted into a standing ovation. "It was celebrating Rob as a person as well the priesthood," Balentine said. "It was definitely an emotional highpoint."
Raised in Westwood, N.J., Hagan graduated from Widener School of Law in 1987.
Hagan described his ordination experience as "most humbling."
"To think that everyone was acknowledging and affirming what I believed to be God's call, I was overtaken with gratitude," he said.
Since August, Hagan has worked as the assistant director of Athletics for Compliance. However, he looks forward to taking an active role in daily and weekly masses on campus now that he is a priest.
"I left the ordination in awe of those who can devote their whole lives to serving God and others," junior Kelli Colusardo, president of pastoral musicians, said.
"It was a very proud day for the Church, Augustinian and Villanovan communities."