'Cats lose to perfect Hawks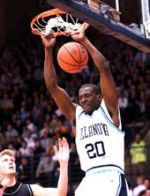 "Holy War." That is the title that is annually used to describe the game between the St. Joe's Hawks and the Villanova Wildcats. Tonight was no different as a closely contested battle in the second half eventually ended in a 74-67 St. Joe's victory.
The Hawks continued their winning streak tonight, bringing their record to a perfect 19-0 and are now in the driver seat for the Big 5 Championship.
Jameer Nelson and Delonte West were as good as advertised pouring in 23 and 21 points for St. Joe's, respectively. West also lead the team with 11 boards, six assists and was perfect from the free throw line hitting on all 10 of his attempts.
A slow start plagued the 'Cats, as they only scored five points in the first 10 minutes of the game. The Hawks took advantage right away. After a dunk by Will Sheridan put 'Nova ahead and its only lead of the game, St. Joe's responded by pouring in 14 straight points highlighted by West and Nelson who contributed with three points, four assists and six points, respectively.
"In the first half when they made a big run, we just lost shooters and just a matter of discipline and execution," head coach Jay Wright said. "They are just very good. We got beat by a better team, we did some good things, but they just did a lot of things better."
Though the 'Cats struggled, there were some high notes for 'Nova, including the play of freshmen Mike Nardi and Will Sheridan. Sheridan was a powerful inside presence for the 'Cats scoring 10 points, eight of which came in the first half.
Nardi had one of his best games of the season, scoring 16 points and dishing out five assists, while trying to hold one of the nations top point guards in check.
"He just did a good job of letting the game come to him," Nardi said of Nelson. "He made some big plays had a key steal at the end of the game and just does a lot for them."
Andreas Bloch, who is now becoming a regular off the bench, had another big game for the 'Cats with 10 points, including hitting two out of three three-pointers. He also came up big on the defensive end, having to switch many times from guarding Nelson to going down low and grabbing boards.
"I was just trying to play defense and get stops," Bloch said. "I always know when I have an open shot, coach tells me to shoot it and that's what I did, and sometimes I make it, sometimes I don't."
Another key stat in tonight's game was the number of fouls in the second half. The 18 fouls prompted the student section to start an distasteful chant in the direction of the referee crew. However, Wright was quick to point out that the way the Hawks play is the reason for most of those calls.
"They [Hawks] are very good at forcing the action offensively and defensively," Wright said. "They really create contact offensively, which is a good offense and they do the same defensively. They create contact and they don't do it with their hands."
Though at some times the student section chants were offensive, all together the fans were positive and created a hostile environment, one that could rival any other college in the nation, even Duke's.
This environment was not lost on St. Joe's coach Phil Martelli.
"That atmosphere was over the top," Martelli said. "It was hard to think."
Nova played this past Thursday when they traveled to Washington D.C., to play Big East rival Georgetown at 7:30 p.m. They will host Providence next Wednesday at the Pavilion.