SPORTS BRIEF: Barbaro loses fight for his life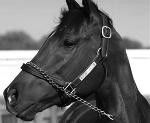 A team of veterinarians put 2006 Kentucky Derby winner Barbaro to sleep Monday morning after an injury failed to heal properly after eight months of attempted recovery. The team, led by Dr. Dean Richardson, chief of surgery at the New Bolton Center, had been working with his handlers since his injury. They used tranquilizers and an overdose of anesthetic to euthanize the horse.
Barbaro broke his leg in three places after a false start at the Preakness in Maryland. He underwent surgery in late May to repair the damage and seemed to be improving in early November when a cast on his injured leg was removed.
However, in December, his condition worsened when he developed an abscess in his right rear foot and laminitis in the rest of his hooves. Laminitis is caused by excessive weight on a leg due to an injury on the other.
Barbaro gained national attention after winning the Kentucky Derby with a 6.5-length lead, the largest margin of victory since 1946. His career earned over $2.3 million for his owners, Ray and Gretchen Jackson.
The horse's well-publicized injuries led to an outpouring of public sympathy. During his recovery, supporters decorated Barbaro's stall in New Bolton, Pa., with get-well cards and flowers.