MBB SPECIAL: Marching toward madness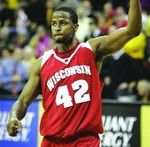 Which one of these teams doesn't belong in the conversation as being the best team in the nation … Florida, Wisconsin or North Carolina?
Feel free to question this choice, but it has to be the Gators, whose tournament resumé does not stack up against the other two teams. A quick look at RPI estimates places UCLA first, North Carolina second and Wisconsin third. Where's Florida? They are a distant 18th, behind the likes of Southern Illinois, UNLV and Tennessee. Granted, RPI is far from the only indicator of a team's success, and by no means is Florida having a bad season … it's just not as good as the other elite teams in the nation and not worthy of being the No. 1 team in the nation.
Yes, Florida won the national championship last season, and yes, it returned every key member from last year's team this season. But there are the key words: "this season."
If this season's version of the Wisconsin Badgers was named the Florida Gators or, for old time's sake, the Duke Blue Devils or Connecticut Huskies, they might very well be the consensus pick for the country's best team. They've already beaten three of the country's current Top 15 teams (No. 5 Ohio State, No. 7 Pittsburgh and No. 14 Marquette in a heated in-state rivalry game). Alas, they are not the "sexy pick" and, thus, are required to do that much more to make up for the media's love affairs with certain more glorified teams.
With the craziness of the NCAA tournament (hence the whole "Madness" advertising gimmick), a team's seed isn't always the most important thing. But with the four No. 1 seeds being ranked and then subsequently placed in brackets and the better-ranked squads getting geographically-favorable regions to play in, one can bet the Badgers would much rather play in St. Louis (360 miles away from Madison, Wis.) than, say, in San Francisco (over 2,000 miles away). It's a little early to give this issue too much thought, but it's definitely worth keeping an eye on as February unfolds.
The Paris Hilton threesome (Teams worthy of the heiress' annoying catchphrase)
No. 2 North Carolina (19-2, 5-1 ACC): Considering they're one of the few elite teams out there, there's not really much further they can ascend, but, boy, did the Tar Heels make some kind of statement against Arizona last weekend. The Heels had the following factor going against them: they were playing the nation's No. 19 team on the road without three of their top nine players, including top freshman forward Brendan Wright. Not much of this seemed to matter to North Carolina, who embarrassed Arizona by 28 points in front of a national television audience.
No. 23 Stanford (14-5, 6-3 Pac-10): The Cardinal established itself as the official Pac-10 giant killer this weekend by beating the UCLA Bruins, but it was wreaking havoc on the West Coast even before that with wins over Washington, Washington State and USC. Stanford has launched itself into the Top 25, and suddenly, it looks like the Pac-10 has five or six legitimate NCAA tournament teams. The bad news for Stanford is that before it can get tickets to the dance, it has to travel to UCLA, Washington, Washington State and USC, and thoughts of revenge will certainly be in the air.
No. 24 Vanderbilt (15-6, 5-2 SEC East): Just like Stanford in the Pac-10, the Commodores are quickly becoming the "home-wreckers" of their conference. Vanderbilt has won five of its last six, downing quality conference opponents such as Tennessee, Alabama, Kentucky and LSU during the month of January. Vandy used its new found "street cred" to enter the Top 25 rankings, but if it wants to stick around, it needed a strong showing last night at No. 1 (well, according to the polls) Florida. The Commodores are also going to have to win a few more big SEC games before season's end, because a weak early-season schedule has their RPI hanging-out in the mid-50s range.
The Borat trifecta (These teams are hot, pause, not)
No. 25 Clemson (18-4, 4-4 ACC): They're here for now because of the buzzkill they incurred at the end of last week. The controversial loss to Duke last week had to feel bad enough, but then the Tigers made things worse by blowing a double-digit lead to Virginia, whose own coach thought was completely out of the game. (Quick sidebar: Is there any time Duke doesn't find itself on the favorable side of a controversial call? Not even once?) After a 17-0 start, Clemson has now dropped four of its last five and stands at a pedestrian 4-4 mark in the country's top-rated conference.
Connecticut (13-7, 2-5 Big East): Once upon a time, things were great for the Huskies and their fans. First of all, the schedule was loaded with home games – 11 in a row to begin the season, in fact. Plus, all of those games were against easy teams from small conferences that didn't present much of a challenge to the big, bad Huskies who went out and did what UConn always does, disposing of the competition despite losing top-line talent (their best six players from last season). But then, Big East play began, and the fairy tale ended, as the Huskies were forced by the mean-old schedule makers to actually play road games and face challenging opponents. Now, 2-7 since the storybook beginning, they can't even fall back on their early wins as a saving grace, since their Charmin-soft schedule has pinned them with an RPI of 88.
The SEC West: College basketball's version of the NBA's Atlantic Division is rife with mediocrity. The two "best" teams in the division, Alabama and LSU, have been knocked around since conference play began, both standing at 2-4 in the SEC. Luckily for these two, something had to give last night when they played each other and someone had to get credited with a conference win (seriously, look it up; it's a rule). The teams tied for first in the division (albeit with a 3-4 record), Arkansas and Auburn, don't really scare anyone, with seven and nine losses, respectively. Hold on to your hats, folks, this could be a tortoise race to the finish. Try not to get too excited.