Banquet raises money for immigration center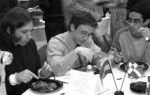 Students, staff and others gathered Tuesday evening in Dougherty Hall's East Lounge for an international banquet to benefit St. Rita's Immigration Center in the Bronx, N.Y. and to learn more about the issue of immigration in the United States.
"God really revealed himself to us while we were there that week," said sophomore Thomas Shireman, who visited St. Rita's on a mission trip during spring break 2006. "Taking a step back and looking at it, it's so clear that they were all God's children and all deserving of every human dignity and respect that we get ourselves."
St. Rita's Immigration Center was started in 1979 when an influx of Cambodian immigrants came into the Bronx and existing immigration centers were not equipped to address this new population.
In 1992, refugees began coming into the Bronx from the Balkan Peninsula, fleeing regional violence.
St. Rita's has become one of many havens for recent arrivals to the United States, offering them a place to learn English, childcare services and aid on the path to citizenship.
"Just being in a classroom where maybe 14 different countries were represented at the same time, there is so much to learn," said junior Alison Sherwood, who was also a part of the mission trip.
The international gourmet dinner included pierogies, Japanese udon noodles, tamales, Cuban rice and beans, New York-style cheesecake and cannolis, among numerous other items. Fair trade coffee, tea and chocolate were also served. The evening's menu aimed to represent all the different immigrant cultures present in the St. Rita's community.
"We learned a lot about solidarity while we were down there," Shireman said. "Solidarity is believing we are all one in the same, and being there really made it tangible for us – being with them and working with them firsthand."
The event was organized by the Catholic Relief Service's (CRS) Ambassadors for Immigration, consisting of Shireman, senior Jackie Baldino, and junior Madeline Dorger. The ambassadors program is a joint venture of CRS and Villanova's Center for Peace and Justice Education. Later in the evening, the ambassadors presented, "Beyond the Borders," an overview of immigration in the United States that focused on those who are uprooted from their family homes and seek a better life in the United States and other industrialized nations. Part of the presentation integrated the CRS production of "A Line in the Sand," featuring several former Villanova graduate students dramatically re-enacting the true stories from the United States-Mexico border.
"The film helps to highlight the lived human experience of poor farmers in utter desperation," Shireman said. "[They] can't compete against U.S. subsidized farm produce flooding markets and depressing prices, so … many are left with no option but to migrate north to make a living."
The presentation was based on the CRS perspective on immigration. It stressed the dignity of the human person and the right of all people to seek economic subsistence, at home and abroad.
"We pray that all of Villanova will hear the cries of immigrants and live in solidarity with them," Shireman said. "Thanks to all of those who supported us tonight; your donations will be put to great use by St. Rita's."