Mulvey makes his pitch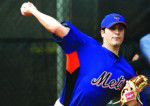 There's a scene in "Hoosiers," right as Hickory High arrives at the site of the state basketball championship game, where the wide-eyed farm boys have never before seen anything as grand as Hinkle Field House in Indianapolis and are awestruck. Gene Hackman's Norman Dale calms their fears with a tape measure. The arena may be bigger, but the basket is still 10 feet high, same as always.
The lesson: No matter where you are playing, the dimensions that matter are always the same.
Stepping onto the field of the New York Mets spring training facility in Port St. Lucie, Fla., just a year removed from toeing the rubber for Villanova and four years removed from high school, one could excuse rookie Kevin Mulvey if he felt a few demons of self-doubt working their way into his psyche. Invoking a little Norman Dale though, Mulvey dismissed this.
"It wasn't really weird as far as me actually playing, because I've been playing the game my whole life," Mulvey says. "It's still 60 feet 6 inches to home plate, 90 feet to first base."
At a time when most people his age were sweating out midterms or packing their bags for spring break, Mulvey was headed to Florida for a taste of the major leagues. Taken 62nd overall in last June's Major League Baseball draft, Mulvey was the New York Mets' first pick, and the first Villanova player to be selected first by any team.
It was not the first time Mulvey had been through this. As a senior at Bishop George Ahr High School in Edison, N.J., Mulvey grew used to the sight of scouts and radar guns. He finished high school as a highly sought-after pitcher, striking out 100 batters and holding opponents to .088 earned runs during his senior year. This was good enough for the St. Louis Cardinals to take notice, as the team selected him in the 34th round of the 2003 amateur draft. After weighing his options, Mulvey ultimately chose Villanova.
Immediately as a freshman, Mulvey stepped into his role as a starter at Villanova. From sophomore year on, he was the team's No. 1 pitcher. Mulvey first gained national attention with a no-hitter against Connecticut in 2005, the eighth in school history. Although the Wildcats struggled at times, teams took notice of Mulvey's 222 strikeouts (compared with only 96 walks), as well as opponents' .264 batting average against him rather than his 14-16 career record. He was considered one of the Top 30 prospects by Baseball America, and some even thought he would go in the late first round.
Instead, the Mets made the Parlin, N.J. native their first overall pick in the second round. After signing with the team in August, Mulvey pitched one game with the Gulf Coast Mets of the Rookie League before moving to the team's Double-A affiliate in Binghamton, N.Y. In his four minor league starts last year, Mulvey was 0-1 with a 1.17 ERA and held opponents to a .208 batting average in 15.1 innings. After a stint in winter ball, Mulvey was on his way to Florida for spring training with the big club.
Once in camp, surrounded by young stars like David Right and Jose Reyes as well as future Hall of Famer Tom Glavine, Mulvey admits that he did feel a little nervous. Just not on the field.
"It was weird in the fact that I was in the same locker room and hanging out with players that had been doing it so long," Mulvey says. "Tom Glavine is about to be a 300-game winner, and I was about five feet next to his locker. That was pretty cool."
"As far as the butterflies, that came in the locker room and hanging out as opposed to being on the field," Mulvey says.
Mulvey knew the odds of making the big league team out of camp were slim, but he still relished the opportunity to experience the major leagues.
"[Mets' pitching coach] Rick Peterson told me it's like going to Disney World," Mulvey says. "You go down there, you go on the rides and then you go home. I got to show the coaching staff what I could do, and I go back to the minor leagues and wait my turn."
In his one start during the spring against the same Cardinals that drafted him out of high school, Mulvey allowed five hits and four runs. Although it may not have gone as well as he would have liked, this brief experience did provide Mulvey with his highlight of the spring, when he struck out superstar first basemen Albert Pujols.
"It's humbling because just to think that I'm one of the very few people to play baseball and to have the opportunity to pitch against Albert Pujols," Mulvey says. "The fact that he struck out, I was ready to quit there and hang them up on top."
Although the Mets reassigned him to minor league camp on March 8, Mulvey's future remains bright, and the club expects big things from him.
"[Mets' manager] Willie Randolph told me in my meeting before he sent me down, 'I really like your stuff. You really impressed me. I'm not going to be afraid to use you. Just go down to the minor leagues and make your way up here,'" Mulvey says.
Mulvey will start the season in Double-A Binghamton, and hopes that Randolph uses him sooner rather than later. For the time being, he will remember a little free advice he picked up along the way.
"Tom Glavine said, 'Keep your head in the right place, keep your eyes on the prize and you'll get there. It's a lot easier to get to the major leagues than it is to stay there,'" Mulvey says.