First-round exit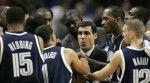 CHICAGO–Even 23 points from freshman Scottie Reynolds and 19 points from senior Curtis Sumpter couldn't stop Tubby Smith and the Kentucky Wildcats (22-11) from victory last night, defeating Villanova 67-58.
Smith, whose job stability was being talked about, quieted the critics last night with a big win over the Villanova Wildcats (22-11). The Villanova loss ended the 'Cats season in a disappointing first-round defeat and sent the team home earlier than it had expected.
"Villanova is a very good team, a very excellent team," Smith said. "And we're just happy to be able to come here and put together a complete game tonight."
The major story of the game was Villanova's inability to hold its own down low, getting outmuscled by Kentucky on the boards, 37-30, and on points inside the paint, 24-18.
Two big scoring droughts also hurt Villanova, as it went more than seven minutes in the first half without scoring a single point, and only scoring one field goal in a 9-minute span in the second half.
"We didn't think we played great," Head Coach Jay Wright said. "You've got to give Kentucky credit. I told (Villanova) it's tough finishing when you don't think you played great."