Out of Bounds: The most notable (and notorious) athlete-entertainment crossovers, Torii Hunter almost gets corked and the new "Heidi" game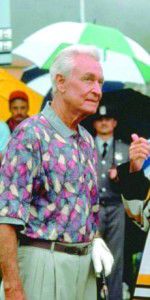 Rapper Romeo (or, the artist formerly known as Lil' Romeo) has reportedly signed a letter of intent to play basketball at USC, marking the latest crossover between the ever-intertwined worlds of entertainment and sports. This latest crossover begs an important question: which group has been more successful at transcending its "home" genre? There have been plenty of cases over the years of athletes pretending to be entertainers and vice versa, so let's take a look at both sides of the argument.
ENTERTAINERS IN SPORTS
Ben Affleck: Last season while sitting in the front row at Fenway, the Razzie-award-winning actor interfered with a foul pop up and failed to make the catch, eliciting boos from Red Sox Nation. Don't quit your day job, Ben. On second thought …
Brian McKnight: As an avid viewer of the annual celebrity all-star game, I can tell you that McKnight is the Kobe Bryant of R&B-singing basketball players. He just owns Frankie Muniz in the low post.
Master P: Fellow rapper and father of the afforementioned Romeo, he actually tried out for the Hornets and Raptors and played games in the Continental Basketball Association and International Basketball League. In 2006, Isiah Thomas came very close to drafting him instead of Renaldo Balkman.
Stuart Scott: Before John Kerry's feeble attempt at catching a football, there was Stu, getting hit with a ball at Jets' training camp and suffering a detached retina.
Bob Barker: Despite winning the Pepsi Pro-Am with Nick Faldo, a pairing with PGA bad boy Happy Gilmore kept Barker from repeating as champ and leaving "The Price is Right" for the pro tour.
Garth Brooks: Made a cameo as a San Diego Padre by pinch running in an exhibition game, and nearly got picked off. Not surprisingly, he didn't make the club. There could still be hope for him, though, as the Phillies are interested in signing him for bullpen help.
ATHLETES IN ENTERTAINMENT
Shaquille O'Neal: He was commendable in his role in "Blue Chips," playing a 7-foot-1-inch college basketball player who dunks well, but fell a bit flat in "Kazaam," playing a 7-foot-1-inch genie who dunks well. Give him credit for trying though. Nicholson and Brando never tried playing a genie.
Michael Irvin: Credit him for pulling off a role where he had to display real acting range, playing a wide receiver with attitude problems in the remake of "The Longest Yard."
Dancing with the Stars: Off to a bad start with Evander Holyfield (eliminated second in season one), Jerry Rice (season two runner-up) and Emmitt Smith (season three winner) redeemed athletes' credibility on the hit reality show.
Carl Lewis: It was the second-worst national anthem ever, but still easily behind Roseanne's performance at a Padres game. YouTube it, if you dare.
Gheorghe Muresan: He wasn't exactly what Billy Crystal had in mind when the casting person on "My Giant" said they were getting a "big" co-star for him.
Space Jam: Michael Jordan was the star of this one, but Charles Barkley stole the show by getting stuffed on a playground by a teenage girl after having his talent taken away.
Kareem Abdul-Jabbar: Memorable as co-pilot Roger Murdock in "Airplane!" – "I think you're the greatest, but my dad says you don't work hard enough on defense. And that you don't really try … except during the playoffs." – "The hell I don't! Listen, kid. I've been hearing that crap ever since I was at UCLA. Tell your old man to drag Walton and Lanier up and down the court for 48 minutes!" Classic.
WRITINGS ON THE WALL:HUNTER IN THE CROSSHAIRS
Torii Hunter was perhaps just the pop of a champagne cork away from getting a three-year suspension from Major League Baseball. The story goes like this: Hunter's Twins win the AL Central on the last day of the regular season, thanks in part to a collapse by the Tigers capped by a sweep at the hands of the lowly Royals. Torii calls some of his pals in K.C., thanking them for their hand in winning the division crown for Minnesota, and says he'll send some champagne over. Well, true to his word, four bottles of bubbly from Hunter were found in Mike Sweeney's locker in the Royals' clubhouse. According to little-known rule 21-b, a member of one team cannot give a gift to another team for "services rendered" for defeating another team. Anyone doing so should be suspended for no less than three years, but since no one opened the gift, it looks like both parties will just be fined. Hunter should be grateful that no one on the Royals has ever popped open a champagne bottle before.
$tock Watch
BULL MARKETMILWAUKEE BREWERS
Move over, Bernie Brewer, I want to ride the slide! The Brew Crew is in first place! Sure, it's only April, but you'd be smart to keep an eye on this bunch, which certainly has the talent to win the league's weakest division. Plus, they're easy to root for, given their underdog status … that is, if you can overlook Bud Selig's not-so-Kosher connection to the team.
BEAR MARKETSEBASTIAN TELFAIR
One word for this one: BUST! As if his play on the court weren't bad enough (Bill Simmons, ESPN.com columnist and dedicated Celts fan named him an MVP candidate based on his ability to help Boston along to better lottery status), he's now been thrown off the the team after being charged with second-degree gun possession and driving with a suspended license.
Channel Surfing
Sharks at Red Wings (tonight, 7:30 p.m., Versus): I don't follow hockey too closely, but this was voted the most intriguing second-round matchup by voters at NHL.com, narrowly edging the Devils-Senators series by 2 percent of the votes. Let's just hope that this game – and any other on cable television giant, Versus – doesn't get pulled off the air for infomercials if it goes into too many overtime periods. It already happened during the fourth overtime period of a Vancouver win over Dallas, effectively creating the NHL's version of the "Heidi" game since the Stars ultimately lost the series in seven games.
Heat at Bulls (Friday, 8 p.m., ESPN): The Heat are in trouble … or are they? They rallied from an 0-2 hole to seize victory from the Dallas Mavericks in last year's NBA finals. Plus, the series now returns to South Beach, where the Bulls could be phased by the home crowd and the most annoying public address announcer in the league. Don't believe me? Just tune in and wait for a 3-pointer by Dwya-a-a-a-a … oh, forget it.
Red Sox at Yankees (Saturday, 3:55 p.m., FOX): Great game, but Buck and McCarver are in the house, so don't forget to mute.
YouTubin'Clip of the Week
See the video atyoutube.com/villanovansportsThe NFL Draft is a time of hope for most teams. If you're a New York Jets fan, however, the feeling you get is more like the thoughts of someone during an air-raid drill: run frantically for cover, duck, shield your face and pray for damage control. Though recent drafts have been good to the Jets, it certainly wasn't always that way, case and point being Ken O'Brien (above) over Dan Marino in 1983. Check out this YouTube classic of Jets' draft blunders.