Football players kicked out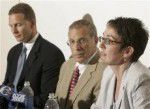 At a press conference held late last night, University officials and football Head Coach Andy Talley announced that the three unnamed incoming freshman football players would not be asked back to Villanova in light of recent sexual assault allegations.
Though an investigation is still ongoing, Talley said that the three freshmen were still found in violation of the University's Code of Conduct.
Assistant VP for Communication Elizabeth Walsh said the players' admission to the University had been rescinded, and that "these young men will not be part of the Villanova community going forward."
"This is extremely disappointing to our coaching staff and our football team," Talley said.
Athletic Director Vince Nicastro believed that, given the situation, fair action was taken.
"I have a great deal of confidence and trust that the outcome here tonight is just and fair as it can be under the circumstances," he said.
No futher details about the alleged victim's age or where the incident took place were released, but according a Philadelphia Daily News source, it is believed that the woman involved is "also a student-athlete and that the incident involved a party-type setting."
It is unclear whether or not criminal charges will be brought up.
6ABC Action News reported at noon on Wednesday that three freshman football players are currently being investigated for an alleged rape of a female student that happened on campus. The identity and age of the female have not been released.
In a late Wednesday afternoon press conference, Walsh noted that the players alleged to have committed the sexual offense were "asked to leave our campus. At Villanova, we take this situation very seriously."
Walsh added that the alleged victim did not wish for outside law enforcement to conduct an investigation, but rather asked that the investigation be limited to DPS investigators.
"Our primary concern is the well-being, safety and privacy of all our students," Walsh said.
Walsh said that University officials met with the alleged victim, counseled her and provided her with all available options.
Though the names of the football players have yet to be released by University officials, sources confirmed that the three players are being investigated for a rape that records have shown occurred between July 14 at 9 p.m. and July 15 at 1 a.m. The alleged rape victim reported the incident to the Department of Public Safety at 8:38 p.m. on July 15. According to NBC 10, a campus security log listed the incident, which reportedly occurred in one of the campus' residence halls, as "rape by force."
————-
Sports Editor Kyle Scudilla contributed to this article.