Kings of the court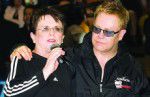 Some of tennis' biggest names will assemble in the Pavilion this fall to raise money for the Elton John AIDS Foundation as part of an event hosted by Sir Elton John and tennis legend Billie Jean King.
Andy Roddick, Lindsay Davenport, Anna Kournikova, John Isner, Corina Morariu and others will compete on Oct. 10 at 7 p.m. Sir Elton will also participate in the tennis matches; his celebrity doubles match will kick off the night.
"It's a great event for the University," Senior Associate Athletic Director Bob Steitz said. "There's a lot of star power with one of the most recognizable musicians in the world."
Villanova is not new to hosting tennis, however. From 2000-2006, the University hosted the Advanta Women's Championships. This October's event is officially titled the Advanta WTT Smash Hits, a part of World Team Tennis, which Davenport, Kournikova and Morariu currently play for.
Villanova will receive rental fees for allowing usage of the Pavilion and managing the event.
"WTT approached us to host this event," Steitz said. "They thought about the Wachovia Center, but it was a little too big; they liked the more personal size of our venue and thought that the location worked well for the event."
Steitz also said that WTT generally alternates the location of its events between the East and West Coasts; a 2002 event hosted at Villanova was successful, so they found that the Pavilion was a good East Coast location, he said.
One of the challenges of hosting the event was finding a date when all of the tennis players and Sir Elton were available.
"We were a little bit more hesitant to find a date once basketball season was started, so this one works well," Steitz said.
Proceeds from the tournament benefit not only the Elton John AIDS Foundation, but local organizations as well. Action AIDS, Pennsylvania's largest AIDS service organization, will also benefit from the charity event.
The Elton John AIDS Foundation is active in 55 countries around the world and has raised over $125 million since it was founded in 1992.
"The cause is unique in itself," Steitz said. "To be a part of that is something … It's part of our mission of the school."
Although the event will be held at Villanova, it is being advertised mostly to the general public instead of students. Tickets can be bought via Ticketmaster for $40, $75 or $110.
According to WTT, spectators should look forward to powerful serves from both Isner and Roddick. Isner graduated earlier this year from the University of Georgia and has a 140-mph serve. He turned pro after graduation but lost to the world's No. 1 player, Roger Federer, in the third round of the U.S. Open and to Roddick in the final of the Legg Mason Classic in Washington D.C. this summer. Roddick, too, is known for his serve and is a former world No. 1.
Davenport played in 2000's Advanta Championships at Villanova and has won three Grand Slam singles titles. She is returning to professional tennis after recently giving birth to a son and currently plays on the WTT Sacramento Capitals. Kournikova is a former professional player who achieved career-high rankings of No. 1 in doubles and No. 8 in singles; she also currently plays for the Capitals. Morariu has won numerous WTA doubles titles as well as a singles title and won the Wimbledon doubles title with Davenport in 1999. After making a comeback from leukemia, she played for the WTT Philadelphia Freedom at Cabrini College in Radnor but currently plays for the Kansas City Explorers.
More players may be added to the roster for the tennis event. However, the event involves more than just tennis. There are both live and silent auctions being held before the event as well as a reception with the players. Both of these events are open to those who purchase a VIP package, which also includes courtside seating.