Out of Bounds: The conspiracy theories of "Belicheat," handing out the 1/8 season NFL awards and Week 3 NFL picks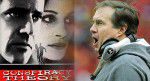 "Belicheat" steals signs, NFL credibility
In my years as a sports fan, I can't count the number of times I've shamelessly resorted to accusing the officials of being paid off or the opposing team of cheating during a game where my team was getting owned. That's really the only thing you can say, just to take the blame away from your team, as crazy it may make you look.
I'm not alone. We're referred to as the "conspiracy theorists." We're the fans who don't always take what we see on the field for face value. We're skeptical critics of the game who analyze suspicious events and develop theories to support our claims of inequities. Oh, and one other thing …
We're usually labeled as crazy.
Until now, of course, when cheating scandals have rocked all three major American sports (sorry NHL and NASCAR fans, you're not in on the fun quite yet). The NFL, seen by many as the new national pastime, is the latest to have its image tarnished, and it just happens to be the league's poster team, the New England Patriots, that are the culprits.Sure, Bill Belichick probably wasn't the only signal stealer out there, but the fact that he would do it in the same week as a memo went out from Roger Goodell's office specifically reminding coaches that this type of behavior is banned shows how little respect Belichick has for the league and the sport. The team has already been hit with fines and has lost at least one draft pick, but more may be on the way, given the accusations swirling. Fox Sports reported that several former NFL players think that Belichick had microphones installed on the shoulder pads of the Pats' defensive linemen to pick up signal calls by the quarterback.
Imagine if, during Goodell's investigation, it's discovered that the Patriots cheated during their Super Bowl wins. Do the Pats stay champions, or do they vacate their positions as champs, following numerous college teams who've followed that path?Such a situation would be, needless to say, irreparably damaging for the NFL. Belichick, however, doesn't have to worry as much. Even if he gets fired, he's got a film school scholarship waiting for him.
1/8 Season NFL Awards
Sure its only two weeks into the season, but people love awards, so let's have at it.
Most surprising 2-0 team: Redskins – When glancing at the standings, one may be more surprised to see the Texans or Lions as 2-0 teams, but it's who the Redskins have beat that gives them the slight edge. Beating the Eagles on Monday night in front of their home crowd was no easy feat. On the plus side, the commute to school was easier with all those Eagles fans floating in the Schuykill River on Tuesday morning.
Most undeserving 2-0 team: Broncos – This one's not even close. I'll give them props for beating the Bills after Jason Elam sprinted on the field to kick the game-winning field goal, but that was a real cheapie over Oakland. That timeout right before Sebastian Janikowski's game-winning field goal from 52 yards out was like taking candy from a baby … or like taking a win from the Raiders.
Most surprising 0-2 team: Eagles – When you get to start your season against the Packers and the Redskins, odds are you're not going to be sitting at 0-2 two weeks into the season. But such is the fate of the Eagles as McNabb plays at "75 percent." Jeff Garcia had a great game against the Saints last week. Oops, how'd that get in there.
Least surprising 0-2 team: Falcons – At this point, Air Bud would be a better quarterback than Joey Harrington. Funny how I went with a dog reference here …
Biggest fantasy bust: LaDainian Tomlinson – He was the universal No. 1 pick, but his owners shouldn't be worried by his slow start. At least he didn't do the "Madden" cover.
Second biggest fantasy bust: Stephen Jackson – This one might be making some fret a bit.
Most felonies: O.J. Simpson – To quote the philosopher Justin Timberlake, what goes around, goes around, goes around, goes around …
Lucky 7 NFL Picks
JETS (-3) over Dolphins: Whether Pennington or Clemens starts, Gang Green should have enough to get by Miami. Look for New York to grind one out on Wayne Chrebet Day and win one for Fireman Ed, who's missing the season after knee surgery.
PATRIOTS (-17) over Bills: If they keep this up, they could win a Super Bowl and an Oscar for cinematography.
STEELERS (-9) over 49ers: Pittsburgh looks like they're in championship form again. The Niners have won two close ones against the enigmatic (and incredibly annoying fo people trying to pick games) NFC West, but now its time for some real competition.
CHIEFS (-2.5) over Vikings: Two reasons for this: 1) Arrowhead is one of the toughest places to play and 2) Tarvaris Jackson threw four picks last week. Notice neither of these has anything to do with K.C. being any good.
TEXANS (+7) over Colts: This is the proverbial "are they for real?" game for Houston. The Colts know the drill: just play well enough to win. Texans will keep it close at home.
Cowboys (+3) over BEARS: If "Sexy Rexy" doesn't watch it, he'll be dodging batteries thrown by Bears fans in addition to opposing defenders.
UPSET SPECIAL
Bengals (+3.5) over SEAHAWKS: Cincy won't give up 50+ again this week, will they? It depends if Seattle comes out and looks like the NFC champions two years ago or the team that lost to the Cards last week.
Last Week: 3-4-0Season: 7-6-1
YouTubin'Clip of the Week
See the video atyoutube.com/villanovansports
With baseball's pennant races coming down to the wire, the innocence of summer's dog days is quickly giving way to the drama of autumn baseball. Before summer officially ends, however, watch this clip and enjoy the lighter side of baseball one more time. This clip comes from Japan and features the most hilarious bench-clearing "brawl" you'll ever see.