Legal issues jeopardize fall concert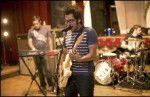 For weeks, multiple Web sites linked to four bands have announced that each will be one of the acts for Villanova's fall concert in Jake Nevin Field House on Nov. 16.
The scheduled performance from bands Motion City Soundtrack, Mae, Anberlin and MetroStation now awaits confirmation from the Campus Activities Team music department and CAT Adviser Brandy Jericho-Beach. Motion City Soundtrack's record label, Epitaph, released the information on its Web site, while Anberlin leaked information on its home page, tour information page and MySpace page.
However, due to contractual delays, CAT officials have been unable to make a definitive statement confirming or denying the fall acts.
Jericho-Beach stated that she could not mention the names of the acts due to contractual obligations. Also, she mentioned that there is a distinct possibility that contracts may fall through and that a fall show may not occur.
"As of right now there is nothing that we can confirm, and there is a chance that the show at this point might not happen," Jericho-Beach said in an interview.
Jericho-Beach said that due to contractual obligations, bands are not allowed to advertise concerts on their Web sites until the contracts have been completely confirmed.
The major issue, she said, lies with the William-Morris Agency, which represents potential headliner Motion City Soundtrack. She explained that throughout the contract negotiations, the William-Morris Agency representative who signed off on many of the contract's stipulations was actually unauthorized to do so.
Jericho-Beach said she does not know whether the William-Morris Agency will have an authorized representative continue the negotiation process or whether new contracts will have to be issued. Another major issue is that MCS agents have not agreed to the University's indemnification policy that contains clauses involving insurance and liability.
To solve the problem, CAT officials have been in constant contact with University Risk Assessment Manager Ashley Feick and the University's General Counsel to help solidify contract negotiations.
One of the major issues holding up the negotiation process is that the William-Morris Agency and the University have not agreed on terms of insurance and indemnification. Jericho-Beach said shows of this magnitude usually require a minimum $1 million liability coverage in order for the University to approve the contract.
Jericho-Beach explained that the process of booking acts for any big concert on campus, such as the fall concert and NovaFest, tends to be a long and tedious one, with contracts constantly going back and forth between lawyers for both the University and the bands. But the negotiations with Motion City Soundtrack have yielded more progress than contract negotiations with the other acts.
"As it currently stands, for two of the acts, we haven't received contracts; for one, I just received [contracts] yesterday, and the headliner['s contract] is very much up in the air," Jericho-Beach said.
Senior Abbey Carr, co-chair of CAT Music, said she remains confident that despite the setbacks, the concert will still go off without a hitch.
"It's a frustrating situation because Lauren [Christman, co-chair of CAT Music,] and I have been working really hard on this for a while now," Carr said. "It's also upsetting because by us not being able to tell our committee members, it makes us seem like we're being dishonest when, really, we just can't say anything."