Racing against the sun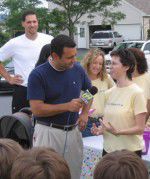 Jessica's Race Against the Sun 5K run will take place on Saturday at Little Lehigh Parkway in Allentown, Pa. to benefit melanoma research. Registration is scheduled to begin at 8 a.m., and the race will begin at 9 a.m. Speakers at the event include Jessica's husband, Ed Coleman, a 1990 graduate of Villanova, Dr. Lee Riley and U.S. Congressman Charlie Dent of Pennsylvania.
Born in Allentown, Pa., Jessica Coleman organized the race with the help of her family and friends while in her third year of fighting a stage-4 case of melanoma.
A leading cause in death among women between the ages of 20 and 29, this cancerous disease has become an increasingly serious risk throughout the past 30 years, carrying with it an incident rate that has more than doubled since 1973.
While late stages are nearly intreatable, melanoma is 90 percent curable when detected in early development.
Sadly, Coleman will not be able to join her friends and family at the race due to her recent death. However, her charity lives on and has already raised upward of $60,000 for melanoma research.
As a wife and mother of two, Coleman was determined to not only win her own battle, but also to give aid to those suffering with her. The idea for the race came about during a casual conversation between Coleman and several friends.
Coleman's intention was to raise a few thousand dollars for melanoma research. Four hundred and fifty people have already registered for the race, and the numbers are expected to climb to between 750 and 1,000 participants.
Proceeds from the race will be donated to the Dr. Lee Riley Melanoma Research Fund. According to Rhonda Heir, Coleman's close friend and the race's co-director, Riley was specifically chosen because he is a local doctor, a member of the community and was Coleman's oncologist.
Along with various race prizes for the top runners in each age-division, all race participants will be automatically entered into a raffle that will take place at the end of the race. Specialized "Race Bags" will also be handed out that will include a copy of Runner's World magazine; sunscreen; a power bar; food samples; a free, one-week pass to L.A. Fitness and more. The first 900 people registered will receive a free Race Against the Sun T-shirt as well.
The run is scheduled to begin at 9 a.m. for runners, while those who choose to walk will begin the race shortly after.
The race has drawn the interest of people of all ages and backgrounds who have been inspired by the life and passion of Coleman. Jessica's Race Against the Sun promises to be not only a powerful stand against melanoma but also a testament to the memory of a strong and courageous woman.