Out of Bounds: Ravens and Britney both have failing comebacks, Shawne Merriman uses steroids and no one cares, and Week 2 NFL spread picks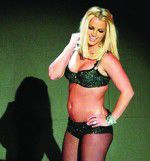 Britney wasn't the only failed comeback
We'll get to Britney in a minute, but first, how about that Monday night of football? ESPN brass lucked out and got two games with exciting finishes, which will only encourage them to remind you that it's only four days, nine hours, etc … until the next installment, though it will certainly be tough to top the Baltimore-Cincinnati opener.
The Ravens needed a touchdown late, and with Steve McNair injured, turned to ex-starter Kyle Boller (which is a lot like a guy turning to an old girlfriend in the 11th hour for a prom date) to lead them to the win. After a phantom offensive pass interference call on Todd Heap on what should have been the needed TD, the refs did their best "shady NBA official" impression by making up for it on the next play with a holding call.
The Bengals defense, which couldn't even stop a group of elementary school kids from crossing the street, actually held its own with a four-down goal line stand. Boller's fourth down pass ricocheted off Heap's hands like a pinball, bounced around a bit and landed in Michael Myers (see "Halloween" in a theater near you) hands in a pick that looked like it was straight out of one of the early 2000s versions of "Madden" for N64.
Speaking of failed comeback attempts and digital graphics, it probably would have been a better idea for MTV to CGI Britney Spears into her performance at the VMAs. You have to think someone ran up to her with a sweater before she went out on stage and she gave a "No thanks, I'm good" to some well-meaning stagehand. Looking out of performance shape, Britney half-assed a lip sync of her latest "song" and didn't really feel much like dancing, thanks for asking.
Toward the end, she didn't even bother mouthing the two words "gimme" and "more" that made up nearly the entire song. Maybe she lost count of "gimmes,"; I'm sure everyone else did.
Thankfully, the good news here is that the Ravens are still a contender in the standings, while Ms. Spears is competing more with Miss Teen South Carolina for YouTube hits than she is with actual musicians on the Billboard charts.
Merrily he rolls along
Have you seen the new Nike football commercial? If you watched any NFL games at all this weekend, chances are, the answer is yes. This isn't to say that fans still didn't get their fill of Mellencamp's "This is ourrrr country" ads, but the commercial was on dozens of times.
If you've seen it, you'll probably first notice innovation, combining on-the-field action with video game-like visuals to create a motivating and captivating scene. The ad follows two players, Stephen Jackson and Shawne Merriman, on athletic rampages down the field during a game.
Is there anything wrong with that picture? Not really, they're both good players, two of the best at their respective positions, in fact, and both youthful, marketable figures, right? Oh, wait, didn't Merriman take steroids and get suspended for it? Oh, well … it's still a really cool commercial.
This, sadly, is probably the thought sequence of most fans viewing this ad. In baseball, getting caught for performance enhancers is basically a death sentence for any credibility a player might have had. Asterisks are fired about, nasty columns are written and Staples runs out of white out and erasers.
In football, a much different approach is taken. Shawne Merriman sat out the first four games of the last year after getting caught for steroid-use, came back and made the Pro Bowl the very same season.
Why the forgiveness in football but almost none in baseball (sans the joke of Jason Giambi winning a Comeback Player of the Year award)?
I came up with three reasons:
1. Football is able to hide behind baseball's gross mismanagement of performance enhancers.
2. The NFL can also hide behind its own legal problems to duck the steroid issue. It's like a sigh of relief these days when a guy "only" gets caught for HGH instead of dog fighting or "making it rain" at a strip club.
3. Fans think football players are supposed to be real big, so steroids don't really matter.
This is ourrrr country …
Lucky 7 NFL Picks: Week 2
Bengals (-7) over BROWNS: Is there a bigger mess in football than Cleveland? Oh, but don't worry, they signed Ken Dorsey to come to the rescue!
BRONCOS (-9.5) over Raiders: Jason Elam can be at ease this week. The only place he'll be running is to and from the locker room. On the bright side for Oakland, at least JaMarcus Russell is finally a Raider.
PATRIOTS (-3.5) over Chargers: Philip Rivers isn't a star yet, and the Patriots will make that known on Sunday. Bolts have the revenge factor on their minds, but until proven otherwise, the Pats look like unstoppable beasts.
Packers (Pick 'em) over GIANTS: I never thought Giants fans would be sad to see Eli go, but after getting a glimpse of Jared Lorenzen next week, Manning jerseys should go flying off the shelves in New York and New Jersey.
EAGLES (-7) over Redskins: This one has bounce-back week written all over it. They won't (hopefully) muff two punts again, but Donovan has to play better also.
Saints (-3) over BUCCANEERS: Ye of little faith have the Saints giving just three points after their big loss to Indy. They're a much better team than that.
UPSET SPECIAL
TITANS (+7) over Colts: The Legend of Vince Young continues to grow. Colts win, but those gritty Titans make it close at home.
Last Week: 4-2-1Season: 4-2-1
Channel Surfing
Yankees at Red Sox (Fri., 7:05, ESPN; Sat., 3:55, Fox; Sun., 8:05, ESPN): It's the series to end all series: "da Yanks" and "da Sawks," duking it out for the final time this season with the American League East on the line. New York has won the East crown since 1998, and Boston, despite its recent successes, hasn't won one since 1995. Think the teams will be pumped for this one? If you want to see baseball at its most intense, check out this series. With all three games on national TV, you have no excuse not to.
Notre Dame at Michigan (Sat., 3:30, ABC): One of these two "lovable" losers finally gets off the schnide and gets to win a game. More interestingly, one of these storied teams is going 0-3 to start the year. With a freshman starting at quarterback for each side, this one could be really ugly, but seriously, you should watch.
Chargers at Patriots (Sun., 8:15, NBC): Come for the awkwardness of "Football Night in America" (where everyone's a comedian and someone's back is always to the camera) and stay for the AFC Divisional Round rematch. LaDanian apologized to Belichick after last year's rant, but you'd better believe he wants this one badly.
YouTubin'Clip of the Week
See the video atyoutube.com/villanovansports
Some people are born for greatness and work hard enough to play sports for a living. The rest of us just play "Madden."Before there was "Madden," "Tecmo Bowl" ruled the sports video game genre and featured the greatest video game athlete of all-time: Bo Jackson. This week's clip goes to show just how ridiculously good Bo was in this Nintendo Entertainment System classic. Watch this clip and be amazed.Bo knows "Tecmo Bowl."