Out of Bounds: How your favorite Major League team will blow it in October, temper tantrums are in this season and trying for another unbeaten week with Week 4 NFL picks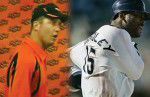 Men behaving badly
This week's issue is all about motifs. For the gossip page, there's definitely a nudity theme streaking through the article. For Out of Bounds, it's incredible outbursts of anger and rage.
Oklahoma State Head Coach Mike Gundy took umbrage with a column that ran in "The Oklahoman" (no relation to "The Villanovan") about the team's quarterback situation. Gundy disagreed with the columnist's choice to criticize a college athlete. He preferred that if anyone is going to be disparaged, it would be him or an adult on the coaching staff. His ensuing rant all but sealed the deal on that request being granted.
"I'm 40! I'm a man!" will not soon be forgotten, though its far from the greatest defense Gundy could have used. Married men try that one with their wives all the time to no avail.
Milton Bradley, notoriously one of sports' biggest hot heads, is the apparently innocent party in the latest of many incidents involving the embattled outfielder.
After first base umpire Mike Winters accused Bradley of tossing his bat in the direction of the home plate umpire following a called strikeout, the Padre called Winters out on what he claimed was a false charge. Winters got into it with Bradley as the latter was taking his lead off first base. The two traded barbs until Winters allegedly called Bradley a piece of, um, spit (this is a page for the whole family to enjoy). Bradley proceeded to call time and let Winters have it. Milton was subsequently ejected and, while being pulled away from Winters by his manager Bud Black, tore his ACL.
It seems apparent that Winters had a low tolerance for Bradley given the outfielder's troubled past and hot temper. It's certainly not fair for Winters to treat Bradley differently because of his reputation, but if he were going to take one thing into account, it should have been this: if you mess with Milton Bradley, he will scare the bejesus out of you.
Bradley's injury may have, dare I say it, opened the door for the Phillies to finally make it to the postseason. I think I hear Gundy screaming at me already for saying that.
———-
How your team favorite MLB team will blow it
There's nothing like a little bad karma before the postseason. Take this column as more of a preparedness guide to know what to blame when your team gets knocked out of the picture:
AMERICAN LEAGUE
Indians: After Cleveland surprises the league by finishing with one of the best records in the majors, fictional owner Rachel Phelps designates Sabathia and Hafner for assignment.
Angels: When the rally monkey breaks loose in the clubhouse and poops in the pre-game spread, several players fall ill.
Red Sox: Schilling gets carpal tunnel before Game 1 of the ALDS blogging mean thoughts about A-Rod.
Yankees: Rumor had it that God wore a Yankees hat until it was lost in a celebration after Game 3 of the 2004 ALCS. Another first-round exit means He hasn't found it yet.
NATIONAL LEAGUE
Diamondbacks: The Big Unit makes a triumphant return, only to get knocked out in less than three innings and punch a cameraman in the throat.
Mets: Glavine's denchers fall out on the mound and he twists his ankle after landing on them, then Pedro gets splinters from his cane.
Cubs: With Chicago up 2-0 headed back to Wrigley, Steve Bartman shows up to Game 3 with a billy goat. The curse is renewed.
Padres: Peavy gets hit with an errant folding chair. Bradley swears it wasn't him.
Phillies: After Burrell strikes out in his first postseason at-bat in Philly, he gets booed so loudly that the sound waves from the fans cause the upper deck to collapse and the Phillies forfeit the NLDS.
———-
Despite what they say, the experts are clueless
This year's Major League Baseball season has been fantastic. I mean other than sports' most sacred record being crapped upon on national television, the '07 season will be one to remember for a lot of positive reasons.
When the final week of the regular season started, home-field advantage was still available for four teams to grab in the American League, and none of the National League teams had clinched a playoff spot. That's what the pennant race is all about.
In the AL, you've got four teams racing to see who wins the most games. In the NL, you've got seven teams hoping to lose the least. It's hard to label one or the other as more intriguing.One thing that is certain is that prognosticators and forecasters will stop at nothing to tell you who will win the whole thing, despite this year's field being so wide open. Last year, the St. Louis Cardinals won the 2006 World Series after finishing the regular season 83-78, which means that all predictions are, basically, useless. (This coming from someone who picks NFL games later in this article).
The best bet would be to listen ESPN's Steve Phillips, who diligently called the Mariners winning the Wild Card and both New York teams missing October. Whoops.
———-
Lucky 7 NFL Picks: Week 4
Texans (-4) over FALCONS: Many Falcons fans will remember this game for two reasons: Matt Schaub's return to Atlanta and the day they ended up canceling their season tickets.
Bears (-3.5) over LIONS: If the Bears win this game, Brian Griese may be given the key to Chicago upon the team's return to the Windy City just for not being Rex.
Packers (-3.5) over VIKINGS: While Brett Favre has struggled in Minnesota, the Pack should use their stout defense to improve to 4-0.
Steelers (-7) over CARDINALS: I'm getting nervous here because that's four road teams covering in a row. I feel confident in the Steelers taking care of business against another one of those flaky, frustrating NFC West teams.
COLTS (-10.5) over Broncos: Indianapolis has torched Denver multiple times at the RCA Dome in the last few years, and back then the Broncos were a playoff caliber team. It sure doesn't seem like they're at that level this year, despite the 2-1 record.
Patriots (-7.5) over BENGALS: If logic applied to sports at all (which it clearly doesn't), you'd have to think the Brady-Moss combo could drop 80+ points on a Cincy defense that yielded 50+ to Cleveland. They should still win big.
UPSET SPECIAL
BROWNS (+6) over Ravens: The Ravens defense hasn't looked as good as advertised, so the Browns will keep this one close. No way they score 51 again, though.
Last Week: 6-0-1Season: 13-6-2
———-
Real Men of Genius
This week, we salute you, Oakland Raiders. There hasn't been much to salute the old Silver and Black about in the last few years, but they have to get recognized for being the students who took the best notes in class.
After having Mike Shanahan call time out right before Sebastian Janikowski launched what would have been the game-winning field goal in week two's Broncos-Raiders game, Oakland had its revenge in week three. Lane Kiffin pulled the same stunt against the Browns, but instead of Phil Dawson missing the "re-kick" like Janikowski did, the Raiders stuffed the kick well before the ball even sniffed the uprights.
The average fan might feel guilty about picking up a win like that, but when you're a Raiders fan these days, you get a freebie for enjoying a win like this.
Just win, baby … though they may have wanted to avoid shaking the Browns hands afterwards.
———
YouTubin'Clip of the Week
See the video atyoutube.com/villanovansports
In a thrilling overtime game between two conference rivals, who isn't craving some Britney banter? Seriously, what was Mike Patrick thinking when he asked "What is Britney doing with her life?" out of nowhere right before the game-winning touchdown in last week's Georgia-Alabama game. Kudos to the color commentator for calling out the absurdity of Patrick's "sense of humor."