Men's Basketball: Pinckney joins Foye with NBA's T-Wolves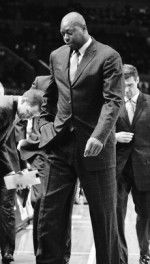 As a player, Ed Pinckney was a member of the Villanova Wildcats for four years before ascending to the NBA. Now, after returning to his alma mater as an assistant coach for four seasons, he has made the same leap.
It was announced last Friday that Pinckney, the 1985 NCAA Tournament's Most Outstanding Player for the NCAA title-winning Wildcats, had accepted an assistant coaching job with the NBA's Minnesota Timberwolves.
Pinckney listed two primary reasons for taking the job after serving on Jay Wright's staff since 2003.
"The chance to work with the many young bigs here – Al Jefferson, Ryan Gomes, Craig Smith," Pinckney said when asked what was the most desirable characteristic of joining the T-Wolves. "I also trust the direction and ideas that management has for the team."
Joining the Timberwolves also meant that Pinckney will be reunited with former Villanova standout Randy Foye. Foye, who was drafted in 2006 and landed in Minnesota after two draft-day trades, is expected to be the team's starting point guard after playing off the bench for most of his rookie season.
"Randy and I see each other everyday, and we talk 'Nova hoops all the time," Pinckney said. "He is excited about the chance to work together again."
The 44-year-old Pinckney said that his prior NBA experience, as well as what he learned as an assistant coach with Villanova, should help him in his pro-coaching debut.
"Coaching under Jay Wright was like being in a sports management class everyday," Pinckney said. "On-the-court confidence, in-game preparation, daily improvement in practice and running a staff day to day are the things I learned the most. What I'd most like to bring from Villanova to Minnesota will be an everyday passion."
Pinckney came to Villanova as a player in 1981 from Adlai E. Stevenson High School in the Bronx. He averaged 14.5 points, 8.6 rebounds and 2.0 blocks per game in four seasons with the Wildcats. The forward became the face of the 1985 Villanova team that pulled off what is widely regarded as one of the biggest upsets in the history of American sports when it defeated heavily favored Georgetown to win the national championship. He played 37 minutes in the championship game and scored 16 points and grabbed six rebounds to lead the No. 8-seeded Cinderella squad over the Hoyas, led by future NBA star Patrick Ewing.
He was drafted 10th overall in the 1985 NBA Draft by the Phoenix Suns and played with them until 1987. "E-Z Ed," as he's commonly known, also played with the Sacramento Kings (1987-89), Boston Celtics (1989-94), Milwaukee Bucks (1994-95), Toronto Raptors (1995-96), Philadelphia 76ers (1996) and Miami Heat (1996-97). Pinckney retired in 1997 after 12 NBA seasons in which he averaged 6.8 points and 5.0 rebounds per game.
Later in 1997, he became a broadcaster with the Heat and worked on the team's radio and television broadcasts from 1997 to 2003. He also served as the Heat's director of mentoring programs from 2002 to 2003 before joining the Villanova coaching staff.
While Pinckney is excited about his new team, he also has high hopes for his alma mater in the upcoming season.
"My scouting report would say, if you're not ready to play for 40 minutes, you can't win versus this team," Pinckney said.
Pinckney also shared some fond memories when looking back at his time with Villanova as a player, coach and one of the basketball program's most recognizable figures.
"What I will miss most is the feeling I get while walking out on the floor of the Pavilion and knowing that everyone in the stands is on your side," he said. "There's no place like the Cathouse."
Q&A with E-Z Ed
Here is more of what former Villanova Wildcat and current Minnesota Timberwolves Assistant Coach Ed Pinckney had to say in his exclusive interview with The Villanovan.
Q: What is your current assessment of the Timberwolves? How do you think they stack up?
A: This edition of the Timberwolves is very young. Randy Foye and others will lead the way in the post-Garnett era. Coach Randy Wittman wants this team's identity to be one of a hard-working, scrappy team. We begin training camp this weekend in Istanbul, Turkey.
Q: What differences are you anticipating between coaching in college and coaching in the NBA?
A: Being resilient in the NBA is key. Because of the schedule, you have to have a short memory after losses and move to the next game.
Q: What advice did Jay Wright and the other coaches have for you?
A: I was the only guy on our staff with experience in the NBA, so most of all Coach Wright and the staff wished me well and talked about staying connected to the program.
Q: Would you like to be a head coach some day? If so, would you prefer to coach in the NCAA or the NBA?
A: I now have the opportunity to do it on both levels. College is where I feel I can have a greater impact.