NFL: Gridiron not short on big stories in early going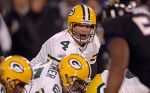 The first three weeks of the '07 NFL season have been eventful. So far, we have witnessed a terrible injury, a scandal involving a dynasty team and a few surprising teams, and this is just the beginning.
Everett recovering from severe injury
The Buffalo Bills' season opener against the Denver Broncos on Sept. 9 brought them a 14-15 loss, but the one-point loss was not their greatest concern. Tight end Kevin Everett was injured while trying to make a tackle. Players, coaches and fans watched in shock as Everett, unable to move, was carried off the field on a stretcher, and he later found out that he had suffered a life-threatening spinal cord injury. Within the first few hours, doctors stated that there was little chance that Everett would ever walk again, but his quick progress within the days following the injury gave them a more optimistic outlook. Kevin Everett is no stranger to injuries, as he had surgery on his shoulder as a member of the Miami Hurricanes football team and missed most of his rookie season with the Bills due to a torn knee ligament. His positive attitude and perseverance through rehabilitation allowed him to fully recover from both of these injuries. Although this is a much more serious injury, doctors say that Everett is showing the same positive attitude and that, paired with the fact that he is only 25 years old, should help his recovery. They feel that he could fully recover from this injury. On Sunday, Everett lifted his right arm for the first time since his injury and was able to sit up in bed for 90 minutes. His doctors are confident he will recover, although they say he must tolerate long periods of sitting, then move to standing activities before he can even attempt any walking.
Patriots in 'Super' form despite controversy
The addition of wide receiver Randy Moss to Pro-Bowl quarterback Tom Brady's offense has made the New England Patriots the team to beat in the AFC. Moss has five touchdowns this year, including two in their win over the Bills and has been a key factor in the Pats' 3-0 start. Their season, however, has been tainted by a scandal that occurred during the season opener against the New York Jets. During the game, a camera was confiscated from Pats' video assistant Matt Estrella while he was on the Jets' sideline during the game, which New England won 38-14. Head Coach Bill Belichick has been accused of ordering the video taping of signals from the Jets' coaching staff. NFL Commissioner Roger Goodell found Belichick guilty of these actions and fined him the NFL-maximum $500,000. This fine, which is the largest ever imposed upon a coach, is estimated to be approximately 12 percent of Belichick's '07 salary. The Patriots were also fined $250,000 and will be forced to either forfeit a first-round draft choice or forfeit a second- and third-round pick in the next NFL draft. Despite this controversy, the Patriots continue to win and sit atop the AFC East.
Pittsburgh, Green Bay look legit in 2007
Last season, just one year after winning Super Bowl XL against the Seahawks, the Pittsburgh Steelers finished at a disappointing 8-8. This season, the first under Head Coach Mike Tomlin after the departure of long-time coach Bill Cowher, seems to be a whole different story; the Steelers are 3-0 after their first three games of the year. They have scored over 30 points in two out of their three games, and in the other, they scored 26.
Another team which has surprised many with a 3-0 start is the Green Bay Packers. With the leadership of quarterback Brett Favre, who is in his 17th NFL season, the Packers beat the Philadelphia Eagles and the New York Giants. It was in this game that Favre earned his 149th win as a starter, passing John Elway's all-time record. Sunday's 31-24 victory over the San Diego Chargers provided another milestone for Favre, as he threw his 420th career touchdown pass, tying Dan Marino's record.
Eagles get off to rough start, but show season is far from over in blowout win
Many people had high hopes for the Philadelphia Eagles this season, but their 0-2 start created doubts and speculations about the team, particularly concerning the health of Donovan McNabb. The Eagles' quarterback had not started a regular-season game since Nov. 19, 2006, when he tore his ACL. His first two starts of this season, losses to the Packers and the Washington Redskins, were sub-par performances and made many people think that he was not ready to come back from his injury. In those games, McNabb only threw for one touchdown and 424 total yards. The offense seemed unable to get any sort of momentum going, while McNabb's accuracy seemed off. He could not convert a few opportunities that would have put the Birds in position to win the game against Washington. However, the team that came out Sunday afternoon against the Detroit Lions seemed to be a completely different one. The Eagles sported a whole new look, wearing special uniforms in celebration of the franchise's 75th anniversary, but the entire team seemed to have undergone a transformation. McNabb was flawless in the Eagles' 56-21 routing of the Lions; he threw for 381 yards and four touchdowns and attained an exceptional quarterback rating of 158.3. Villanova alumnus Brian Westbrook was also part of the explosive offense, running for 110 yards while receiving for 111 yards, and wide receiver Kevin Curtis stepped up big as McNabb's go-to guy. He had three touchdowns and a franchise-record 205 receiving yards in the first half.
Make or break matchups ahead in Week 4
Next weekend, the Eagles will take on NFC East rivals the New York Giants in a battle between two 1-2 teams. The Lions will try to bounce back from their big loss against the Eagles in a game against fellow NFC North division members the Chicago Bears, and the New York Jets and Buffalo Bills will be playing in an AFC East division matchup. The Baltimore Ravens will be playing the Cleveland Browns in a battle between two AFC North teams, while the other two AFC North teams, the Green Bay Packers and the Minnesota Vikings, will also be playing each other. The Tampa Bay Buccaneers and the Carolina Panthers will be battling for first place in the NFC South, while the San Francisco 49ers and the Seattle Seahawks will compete for control of the NFC West.