Out of Bounds: The classification system of bad NFL teams, our annual reunion with Buck and McCarver and Week 8 NFL Picks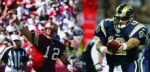 Will 12 teams even be playoff-worthy?
NFL fans, take a second to stop and smell the roses for a second. Notice anything foul in the air? That's because it doesn't take a die-hard fan to realize that, in 2007, there are a lot of bad, and I mean bad, NFL teams out there.What happened? Last year, we had a lot of great AFC teams. Coming down to the final weeks, the Colts, Patriots, Chargers, Ravens, Jets, Chiefs, Jaguars, Broncos, Bengals and Steelers were all good teams that could have been legitimate playoff contenders. We even had some slightly intriguing NFC teams. In 2007, on the other hand, we have the:
Intramural teams: Atlanta, Miami, St. Louis. They've all had quarterback injuries, but these teams are just awful. To top it off, Joey Harrington is starting for Atlanta again!
One step up from awful teams: Buffalo, Cincinnati, NY Jets, Oakland. These guys are just thankful that they don't have Harrington.
The terrible QB club: Carolina, Minnesota, San Francisco. Carr and Jackson and Dilfer, oh my! (Note: Many other teams after awful QBs, but landed in other divisions for creative purposes).
The rest of the NFC West: Arizona, Seattle. Does anyone deserve to win this division?
The rest of the NFC South: Tampa Bay. I guess so if someone's going to win this division.
Here today, gone tomorrow teams: Baltimore, Chicago, New Orleans, Philadelphia, San Diego. "Playoffs? Don't talk about playoffs! You kidding me? Playoffs? I just hope we can win a game." – Jim Mora
The "I wouldn't trust these teams as far as I could throw them" teams: Cleveland, Detroit, Houston, Kansas City, Tennessee, Washington. Would you feel safe betting on any of these teams?
The "we should be 0-6 team:" Denver. Their three wins have come on last second field goals, and they've looked bad in the losses.
Buck + McCarver = Necessary Evil
The World Series began last night and, chances are, you probably saw at least a little of the game. If you did, you were once again treated to the symphony of broadcasting genius known as Joe Buck and Tim McCarver.
First, there's Buck's ulcer-causing, over-the-top dramatics. It seems that when your team has a lead in the playoffs, and Buck is at the mic, the opposition always has the tying run around somewhere ready to crush your hopes and dreams into a fine powder. When he's not scaring the hell out of fans with his "let's bring up the most disheartening fact possible at the crucial time" moments, he's switching gears to the awkward, light-hearted banter that gives FOX reason to think he's a good choice as a late-night host. If Seacrest can host the Super Bowl pre-game, anything's possible.
His partner in crime, McCarver, tries to come off as the uber-analyst with a warm and endearing side. With his far-fetched theories and odd descriptions of what we're seeing on the field, McCarver almost reminds us of a crazy old Dick Vitale or John Madden type. You know, the type of guy like the grandfather everyone loves so much that they pretend not to hear him fart really loudly at Thanksgiving dinner. But McCarver isn't warm and cuddly. He's just bizarre.
FOX has the World Series rights 'til 2013. "In my view," it'll be a long six years.
Week 8 NFL Picks
Browns (-4) over RAMS: The Rams stink so badly, picking the Browns on the road is one of the more confident picks I have going this week.
Colts (-7.5) over PANTHERS: With all this hoopla (yes, hoopla) about the Pats, it seems like the Super Bowl champs with the NFL's version of Ron Popeil at quarterback have, somehow, flown under the radar.
Giants (-10.5) over DOLPHINS: Roger Goodell wants to internationalize football, and to do that, the Giants and Dolphins will be playing Sunday's game in London's Wembley Stadium. We're sending them the Dolphins? No wonder everyone hates America!
PATRIOTS (-17) over Redskins: You want to bet against these guys right now? I sure don't.Saints (-3) over 49ERS: Now that the Saints are beating up on the flaky (Seahawks) and the crappy (Falcons), don't be surprised if even they are considered contenders in the NFC.
Steelers (-4.5) over BENGALS: Chad Johnson didn't want you knowing that T.J. Houshmandzadeh might be better than him. Chad Johnson is angry.
UPSET SPECIAL
Lions (+5.5) over BEARS: Soldier Field is tough, but the Bears are ugly. I reserve the right to change this pick if Brian Griese's headset breaks again.
Last Week: 6-1-0Season: 26-20-3
Real Men of Genius
This week, we salute you, Cleveland Indians. You had it in the bag, up 3-1, with potential Cy Young winner C.C. Sabathia on the mound in the clincher at the Jake. Instead, C.C. got roughed up so badly, the kids had to get sent to bed early, and that was merely the beginning. I can't figure out what was the worse omen: Cleveland packing their luggage for Boston before Game 5 started or MLB.com advertising Cleveland Indians American League Champions gear. Either way, things went from bad to worse, with Joel Skinner not sending Kenny Lofton, the tying run in Game 7, home. Then, the cherry on top was that Jhonny Peralta-Casey Blake rendition of two third graders dancing and stepping all over each other's feet, all while a popup landed fair down the left field line. One thing's for sure: this wouldn't have happened if Rick Vaughn pitched the clincher.
YouTubin'
See the video atyoutube.com/villanovansports
Going to the World Series is an unbelievable thrill that few will ever get to experience. The jubilation of the moment is something that would be hard to describe and capture. The players go crazy and the fans roar with cheers. However, did you ever think you'd witness a rendition of "Riverdance" on the baseball diamond? Thank you, Jonathan Papelbon.