UNIT says campus-wide wireless is top priority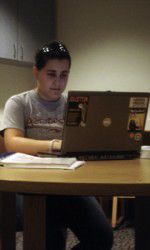 When University President Rev. Peter Donohue, O.S.A. assumed his position in 2006, he said that expediting the process of expanding wireless to all residence halls ought to be one of UNIT's top priorities.
Consequently, UNIT has implemented a multi-year plan aiming toward campus-wide wireless Internet service. The multi-year plan was originally expected to take around seven years to complete, but with the cooperation of administrators like Donohue and Vice President for Student Life Rev. John Stack, O.S.A., the process has been considerably accelerated.
With the inception of the laptop program by the School of Business in 1997 and the College of Engineering in 2003, UNIT's first goal was to bring wireless Internet service to all academic buildings and student congregation areas.
Wireless Internet is now available in all dining halls and academic buildings, as well as in Connelly Center.
Last fall marked the beginning of the University-wide laptop program. Incoming freshmen in all schools were issued laptops.
Stephen Fugale, chief information officer of UNIT, said this event was a major impetus for providing wireless Internet in the residence halls.
"We know that the desire is for ubiquitous Internet access, and we want students to understand that our objective is to provide access anytime, anywhere," he said.
Currently, all the buildings on South Campus are wireless.
"Our goal was to begin with converting the freshman residence halls to wireless first, followed by sophomore halls on Main Campus and the apartments on West Campus," Fugale said.
UNIT is pursuing these goals as aggressively as possible. However, there are many obstacles to overcome.
The older stone residence halls require careful engineering to get complete wireless coverage.
Also, the limited time window in which workers can gain access to the residence halls – from graduation until August – increases the difficulty of the project.
Fugale estimates that the entire campus will have wireless Internet connectivity in a little over two years.
He said that Villanova's current wireless offerings are on par the wireless offerings found at other universities.
"There is an annual study – the ECAR Core Data Report – which provides statistics from about 1,000 different institutions yearly, and we monitor that very closely," he said.
UNIT also wants to provide wireless access in the residence halls in order to lower the number of "rogue access points" on campus. Rogue access points are created when students set up their own unsecured access points in their rooms.
"Students who create rogue access points compromise the security of our network," Fugale said.
For their own safety as well as the safety of the network, it is important that students never access the Villanova network from a rogue access point.
Not only is this practice unsafe, but it is also a policy violation which can result in penalties.