Out of Bounds: Your 'how to' guide for cutting class to watch the Phillies, the guys who will come out of nowhere this postseason and Week 5 NFL picks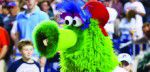 Have your Phil … skip class today
Just as the Major League Baseball playoffs are an annual tradition (sans 1994) that we all enjoy, one that no one enjoys are the inevitable "screw jobs" that occur in scheduling the divisional round. With the first two games of the Phillies-Rockies NLDS being played at 3 p.m. ET, many local fans will be looking for excuses to get out of their daily obligations to watch the playoffs. Here's a cheat sheet for Thursday afternoon for Villanova's Philly fans:
1. By the way, Dad, I'm not really all that crazy about my major … just thought I'd let you know that. Hello? Dad? You're still mailing me that check, right?
2. I'm not graduating on time anyway, what difference is another day going to make?
3. Tuition isn't paid on a per class basis. It's spent on the overall experience, so if staying home and watching the playoffs is going to make me more happy than going to philosophy, that's a sound investment.
4. The group really doesn't need me today. With all those people, coffee cups and laptops in The Exchange, who's going to notice the difference?
5. I'd probably just be checking Facebook during class, lol.
6. The last time the Phillies made the playoffs, "Mighty Morphin' Power Rangers" had just debuted, "Jurassic Park" had just come out and Windows 95 had yet to be invented.
7. I'm so hung over after Sink or Swim that it's unreasonable to think that I'll be waking up much earlier than three in the afternoon on Thursday. Hey, remember that cute girl that talked to me? Yeah, neither do I …
8. I have to watch this game. There are Mets fans all over the country that don't get to watch their team in the playoffs this year.
9. The Eagles suck this year. The Phillies are my only hope. (Wait, did I just say that?)
10. When the Phillies lose, I want to have as much evidence as I can to use when complaining to the world about being a Philadelphia sports fan.
Your 2007 unsung heroes
Want to know which guys have the best chance of "coming out of nowhere" this postseason to make big contributions? Here are some good bets to do so … and now you can tell your friends you knew they were good all along when they do become heroes.
AMERICAN LEAGUE
Red Sox: Jacoby Ellsbury, OF. Chances are mega free agency flop J.D. Drew will be on a short leash thanks to one of the many big contributors who came up from the Sox system this season. Ellsbury hit .353 down the stretch.
Indians: Rafael Perez, RP. While Perez is just half of the "Rafael squared" set-up tandem that Cleveland features, he's also the only half that didn't get caught taking steroids (see Rafael Betancourt).
Angels: Howie Kendrick, 2B. Though he was hit with the injury bug this season, he still managed to hit .322 in the 88 games he played in this year. He's healthy and drove in 16 runs in September.
Yankees: Melky Cabrera, OF. Melky's ability to make spectacular catches in center field and keep runners from advancing on his arm (a luxury the Yanks haven't had in a while) give New York a different look this October.
NATIONAL LEAGUE
Diamondbacks: Micah Owings, SP. While many D'Backs could qualify, Owings is a two-fer pick because he can pitch and hit (.333 average).
Phillies: Kyle Kendrick, SP. The question mark with the Phils is pitching, but this 10-game winner could silence a lot of doubters with a solid outing in Game 2 of the NLDS.
Cubs: Carlos Marmol, RP. Already considered among the best relievers in the game, he should be a sure thing in the 8th before handing things over to "Cardiac" Dempster.
Rockies: Manny Corpas, RP. He's the ace in the unheralded yet very good Rockies bullpen and the leading candidate to be the next Jenks or Wainwright.
Uh, parity? Don't talk about parity!
When I say parity, naturally, you probably think of the NFL.
Given the fact that none of the teams who drafted in the top five last year (Raiders, Lions, Browns, Buccaneers and Cardinals) are below .500 after the first four weeks, while the teams with the best records in their respective conference last year (the Chargers and Bears) are, it's a fair assessment.
But how many people would have ever answered Major League Baseball?
They shouldn't either, right? Because it's the same teams every year … at least, that's what everyone says.
But those of us who argue that there is parity in baseball can point to 2006 and 2007 as a big period to support our claims. How many fans out there realize that out of this year's eight playoff teams, only the Yankees are a carry over from 2006? Gone are the likes of the Twins, A's, Tigers, Mets, Cardinals, Padres and Dodgers while the Red Sox, Indians, Angels, Diamondbacks, Phillies, Cubs and Rockies enter the mix. How many people had the Rockies in the playoffs this year, or even the Diamondbacks for that matter?
This isn't a new trend, either. Considering the Yankees "always win," it's also interesting that, since 2000, we've had a different World Series champion every season, and, with the Cardinals out of the playoff picture this year, it will be seven years, seven non-repeat champions for Major League Baseball.
Lucky 7 NFL Picks
SAINTS (-3) over Panthers: Am I an idiot for thinking the Saints still have a chance in the NFC South? This week's game will prove it. If they lose, even this horrible division could be out of reach for last season's feel-good story.
Cowboys (-11.5) over BILLS: Tony Romo finally deserves to date Carrie Underwood. Hey, Jerry Jones, if you're not too busy getting Botox, sign this guy, please.
PACKERS (-3.5) over Bears: According to Chris Berman, "rooting for Brett Favre is like rooting for America." I concur.
STEELERS (-5.5) over Seahawks: The Seahawks are a much different team on the road. The Steelers are a much different team when the other team doesn't employ more than one of their old coaches.
COLTS (-11) over Buccaneers: I'm really more interested in the over/under on Peyton Manning commercials fans will see during this game.
PATRIOTS (-17) over Browns: Randy Moss has been a fantasy football resurrection this year. He officially beats Vince Carter at playing possum and coming back from the dead.
UPSET SPECIAL
Lions (+3.5) over REDSKINS: The Lions all of a sudden look … well, I hate to say like a playoff contender, but at least they look like a legitimate NFL franchise for a change.
Last Week: 4-3-0Season: 17-9-2
Real Men of Genius
This week, we salute you, Isiah Thomas, and smart money says, it won't be the last time. You're currently involved in quite possibly the greatest "how much more will it take to get this guy fired" matchup of all time with Matt Millen, and you don't seem to be quitting any time soon. You embarrassed the once proud Knicks organization once again, and this time, you got MSG to foot the bill in an $11.6 million sexual harrassment lawsuit.
After the case's verdict was announced on Tuesday, Anucha Browne Sanders said, "What I did here, I did for every working woman in America." Thanks to the Dolan family, however, what she did didn't achieve was the goal of Knicks fans: get Isiah out of town.
Despite his hoarding of overrated shooting guards and sexual harrassment, Isiah's still calling the shots. Sorry, Spike Lee.
YouTubin'Clip of the Week
See the video atyoutube.com/villanovansports
I don't mean to pile on top of Mets fans this week, but this video was too good to pass up. If you thought things couldn't get any worse, Mets fans, check out this clip from "Late Night with Conan O'Brien" where even your mascot, Mr. Met, isn't immune from being harmed by the Philadelphia Phillies. The video proves once you go green, you never go back …