Out of Bounds: A-Rod is such a Sockblock, Kobe's whining could be biggest NBA story this season and Week 9 NFL Picks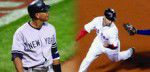 What a Sockblock!
Even winning a World Series isn't more important than contract negotiations these days. At least, that's what Scott Boras wants everyone to think.
By now, you're probably aware that during Game Four of the World Series on Sunday, Joe Buck and Tim McCarver mentioned during the broadcast that the news had come out that Alex Rodriguez would, after much speculation, finally opt out of his contract with the New York Yankees. Just shortly after, the Boston Red Sox finished off a sweep of the Colorado Rockies for their second world championship in four years, but even they could not escape answering questions about A-Rod during their celebration.
Call Boras whatever you want, but there's two ways to look at this. Was it an affront to the game of baseball? Absolutely, and I'm glad that baseball has spoken out against Boras' awful timing. Boras and Rodriguez had 10 days after the World Series to make this announcement, so there was really no good excuse to do what was done.
But don't think for a second that the move wasn't highly calculated (just like his demands for A-Rod's new salary are) for another big reason. Boras wanted to bury the story under the excitement of the World Series ending to avoid the wrath of releasing the news on a weekday afternoon when there's no more baseball, no football on and just the first inklings of the NBA schedule. Well, it didn't work. A-Rod is a fantastic talent. He's going to be named the MVP soon, but he'll be accepting the award as a man without a team, and when he does, it will be a symbol for his entire career.
If A-Rod wants people to like him, the first thing he should do is fire Boras. From all indications, Rodriguez is a pretty good guy: he works hard, plays the game the right way, has never been linking to steroids and may go down as the greatest player of all-time in the process. Rodriguez will, in all likelihood, be nipping at the heels of Barry Bonds years from now for the career home run record. While fans would love to see Bonds lose the record, how much will they want A-Rod to be the one do to it? Right now, I'd say not much. Well done, Scott.
Kobe holds the key to the season
Kobe Bryant is currently holding the NBA captive, and there's nothing you or I can do about it.
With Bryant's fate hanging in the balance, there could be a dramatic power shift in the league any day throughout the year. With the Lakers not looking any better than a fringe playoff team and Kobe's inability to hide his true feelings, the clock is ticking pretty loudly on his final days in L.A. these days. Most rumors have the Lakers shipping him to the Chicago Bulls, a franchise currently built on teamwork and a disciplinarian coach in Scott Skiles.
There are tons of questions surrounding a possible Kobe deal. Who would Chicago have to give up? Would dealing for Kobe necessarily make them a better team? Why would Bryant want to be compared to Michael Jordan every day of his career? Why did Phil Jackson ever come back to the Lakers? Didn't he see this coming?
As long as Bryant keeps up his whining, we'll get to continue to hear the critiques of Sir Charles. There's a silver lining after all.
Lucky 7 NFL PicksWeek 9
Cowboys (-3) over EAGLES: It wouldn't matter if the Eagles were 0-7 right now. Winning this game would make their season. At 3-4, it could save their season.
LIONS (-3) over Broncos: You've heard it here second (Jon Kitna was first): the Lions are legit. A weak schedule the rest of the way will put Detroit in the NFC playoffs.
Patriots (-5) over COLTS: I would take the Pats giving points to the AFC Pro Bowl team at this point. Manning and Indy being indoors has always benefitted the Colts in this matchup, but with "Brady's Boys" acting as the most explosive show on turf these days, Pats could win this one big-time.
TITANS (-4) over Panthers: Vegas loves the Panthers for some reason. I really don't see why. The Titans had a down week last week and still managed to win.
BUCCANEERS (-3.5) over Cardinals: If my picks go according to plan, Jeff Garcia will be in first, and the Eagles will be in last halfway through the season. Is it fair to compare the East to the South? Not at all, but the first sentence of this blurb will still anger Eagles fans.
STEELERS (-9) over Ravens: The Ravens will continue to contribute to the head-scratching phrase popularly known as "the Browns are seriously in second place?"
UPSET SPECIAL
BILLS (+1) over Bengals: As a fan of an AFC East team (I won't say which one … and seven … I just blew it), I can tell you that the Bills are a much, much different team at home.
Last Week: 6-1-0Season: 32-21-3
Real Men of Genius
This week, we salute you, Midway Games. The Nintendo Wii has been one of the greatest inventions of the last few years, offering interactive gaming excitement, fun for the whole family and exercise to fat kids who otherwise wouldn't get any (double entendre notwithstanding, wink wink). The system's innovation has been praised to no end by critics and gamers alike, but Midway has found a way to stand out even further from the crowd. You may have no idea what I'm talking about, but shortly after the beginning of November. The game "Game Party" offers seven minigames derived from some of our favorite "not actually a sport but we act like they are anyway" activities, including pop-a-shot, Skee Ball, darts, shuffleboard, air hockey, trivia and … drum roll please … the craftily named "ping cup," where ping pong balls are thrown into cups. Just remember kids: double-cupping is the key to creating a dynasty.
YouTubin' Clip of the Week
See the video atyoutube.com/villanovansports
I always try my best to find something that may have fallen through the cracks in the sports world for YouTubin' each week. I've even featured D-II sports in this space before. Now, it's the debut of the D-III YouTubin' sports clip. Trinity University used one pass and 15 laterals to win its game on the final play last week, while the Millsaps players basically stood and watched.